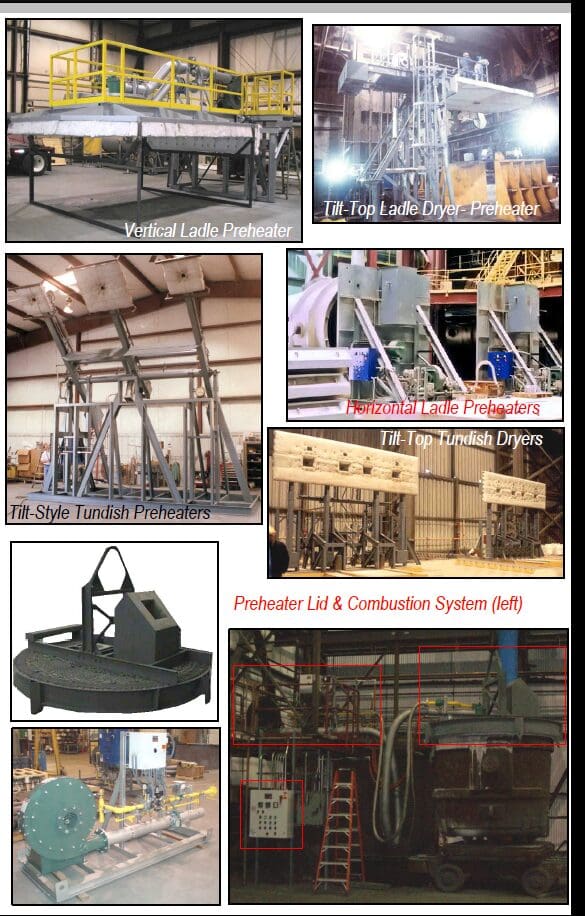 What are Tundish & Ladles? Dryers, Preheaters, & Dryer-Preheaters?
The function of ladles and tundishes in the metal industry and the purpose of dryers/ preheaters is discussed below:
Since 3000 B.C. people have been casting and molding metal, originally to make weapons. Today, metal casting and molding is not only used to manufacture weapons, but has grown to include everything from construction structures to automotive parts and art work. Ladle and tundish equipment is very imperative to the casting industry.
Ladles are bowl shaped containers, typically coated with refractory lining, which handle the transfer of molten metal. The ladle pours the molten metal into a tundish, a broad open container with one or more nozzles on the bottom. After the metal cools in the tundish to the perfect casting temperature, it flows through the nozzles into an ingot mold.
Ladle and tundish dryers are used for new refractory linings. Both containers' linings must be completely dry before production begins in order to ensure that there's no chance of any water molecules coming into contact with molten metal.
Small variations in the temperature of the molten metal can result in flaws, such as bubbles and cracks, in the final product. In order to prevent temperature loss, ladle and tundish preheaters are used to increase the temperature of the container to be comparable to that of the molten metal.
Dryer-preheaters are a combination unit designed to achieve the high temperatures required for preheating, but include rapid air circulation at lower temperatures required for drying.
Stelter & Brinck Ladle & Tundish Equipment Summary:
Stelter & Brinck's preheaters & dryers are designed and manufactured for the steel mill industry to provide unmatched performance. Our ladle and tundish dryers are used for fast and even drying at low temperatures. Preheaters are designed to achieve high preheat temperatures and fire on-ratio for the most efficient fuel consumption. Stelter & Brinck tundish & ladle dryer-preheaters are used for high preheat temperatures and fast, uniform drying.
Features & Benefits of Stelter & Brinck Metals Industry Equipment:
Below are other features and benefits of Stelter & Brinck's durable, reliable and consistant tundish and ladle equipment.
– Horizontal or vertical firing arrangements
– Overhead, lift-off/ portable, tilt-style or horizontal units available
– Multiple burner systems available.
– Easy-to-light & easy-to-use
– Reduces excess energy/ fuel usage
– Completely packaged with burners & controls; prewired and prepiped assembly.
– Control panel includes: annunciator, PID digital temperature control, FM approved high temperature limit, flame safety relay, main power disconnect, control transformer, and process blower motor starter. UL 508A priced per request.
– Remote control interface capability available.
– Built to meet your FM, CE, GAP, NFPA or CSA construction standards.
– Standard units fire on natural gas, but other options are available
– Low emissions options
– Rigorously tested/ tuned and fired in-house before shipment.
-Stelter & Brinck on-site start-up and regular maintenance available.
Pictures of Stelter & Brinck's Equipment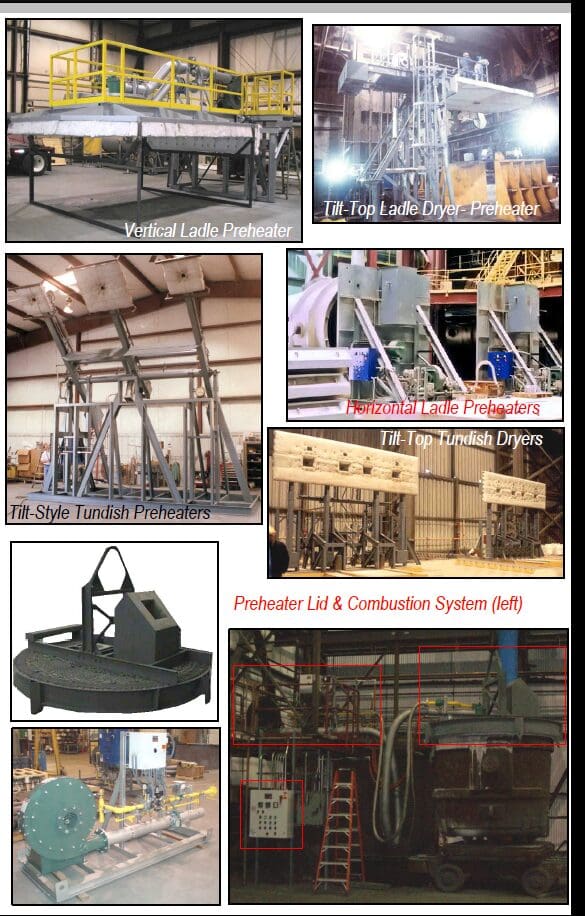 Ladle and Tundish Infographic