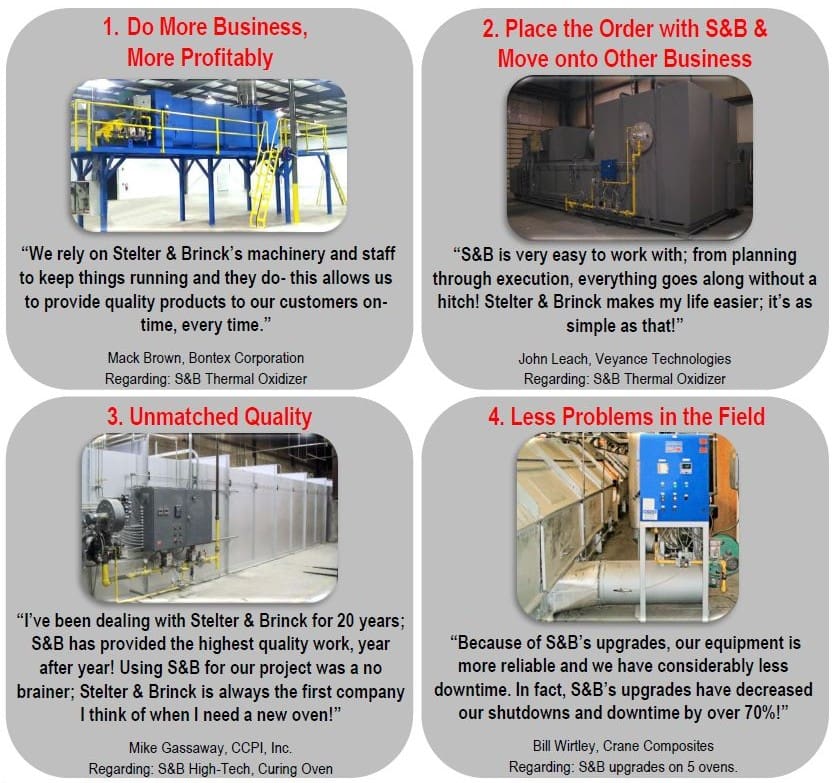 Whether we designed and manufactured their entire new system or provided a small equipment upgrade, our capital equipment customers have expressed that they now enjoy the following benefits …
As you can see from the image above, our customers now:
Do More Business, More Profitably. "We rely on Stelter & Brinck's machinery and staff to keep things running and they do- this allows us to provide quality products to our customers on-time, every time."
Place the Order with S&B & Move onto Other Business. "S&B is very easy o work with; from planning through execution, everything goes along without a hitch! Stelter & Brinck makes my life easier; it's as simple as that!"
Unmatched Quality. "I've been dealing with Stelter & Brinck for 20 years; S&B has provided the highest quality work, year after year! Using S&B for our project was a no brainer; Stelter & Brinck is always the first company I think of when I need a new oven!"
Less Problems in the Field. "Because of S&B's upgrades, our equipment is more relaible and we have considerably less downtime. In fact, S&B's upgrades have decreased our shutdowns & downtime by over 70%!"
If you would like to partner with us for your process heating equipment needs, feel free to contact us!