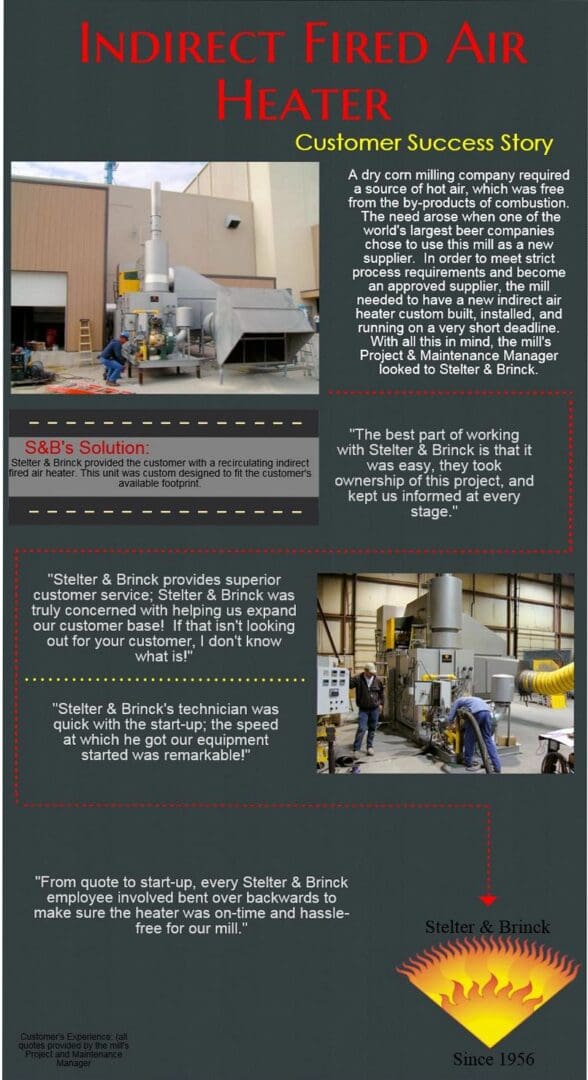 Customer Need:
A source of hot air, which was free from the by-products of combustion was needed by a dry corn milling company. The need arose when one of the world's largest beer companies chose to use this mill as a new supplier. In order to meet strict process requirements and become an approved supplier, the mill needed to have a new indirect air heater custom built, installed, and running on a very short deadline. With all this in mind, the mill's Project & Maintenance Manager looked to Stelter & Brinck.
S&B's Solution:
S&B provided the customer with a recirculating indirect fired air heater. This unit was custom designed to fit the customer's available footprint.
Customer's Experience (all quotes provided by the mill's Project & Maintenance Manager):
"The best part of working with Stelter & Brinck is that it was easy; they took ownership of this project, and kept us informed at every stage"
"From quote to start-up, every S&B employee involved bent over backwards to make sure the heater was on-time and hassle-free for our mill."
"S&B provides superior customer service; S&B was truly concerned with helping us expand our customer base! If that isn't looking out for your customer, I don't know what is!"
"S&B's technician was quick with the start-up; the speed at which he got our equipment started was remarkable!"
It's safe to say that Stelter & Brinck and the dry corn mill enjoyed working as partners to get this project completed. If you have any questions or want help with your process heating projects, feel free to leave a comment below or contact us.