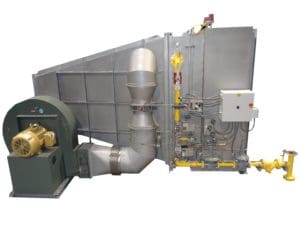 NOx is a greenhouse gas formed during the combustion of fossil fuel and tends to increase with higher temperatures. NOx emissions interact with atmospheric gases to produce low air quality, acid rain, vision and respiratory problems for humans, and destroy plant life.
Because of their ill effects, the Environmental Protection Agency (EPA) regulates NOx and other emissions produced by manufacturing facilities. In order to comply with the EPA's standards, and be socially responsible, most companies implement emissions programs; these companies continually focus efforts on ways to reduce their emissions levels, while improving their bottom line.
S&B Low Emission Systems
Stelter & Brinck partners with many manufacturers to help them meet their emission goals; the following Stelter & Brinck products aid companies with their emissions management:
Thermal & Catalytic Oxidizers, Afterburners- Designed for VOC emission abatement, S&B oxidizers are destruction efficiency guaranteed.
Low NOx Technology- We offer low-NOx & ultra-low emission options for each piece of equipment we design and build.
Stelter & Brinck Heat Recovery Systems- Reduce your carbon footprint!
Combustion Services- S&B's services can help reduce emissions by ensuring proper fuel/air ratio and efficient flame quality. Regular equipment maintenance can also reduce unexpected failures, increase up-time, improve safety and ultimately increase profitability.
Quotes from Stelter & Brinck Customers:
"With the help of S&B, we won an Environmental Leadership Award!"
– Engineering Manager, An Automotive Parts Manufacturer
"S&B's equipment has helped us meet EPA standards".
– Facilities Manager, Wood Composite Company
"We depend on S&B's equipment to keep us environmentally friendly!"
– Plant Manager, Fabric Laminating Company
Pictures
Below are some images of our low emission systems.