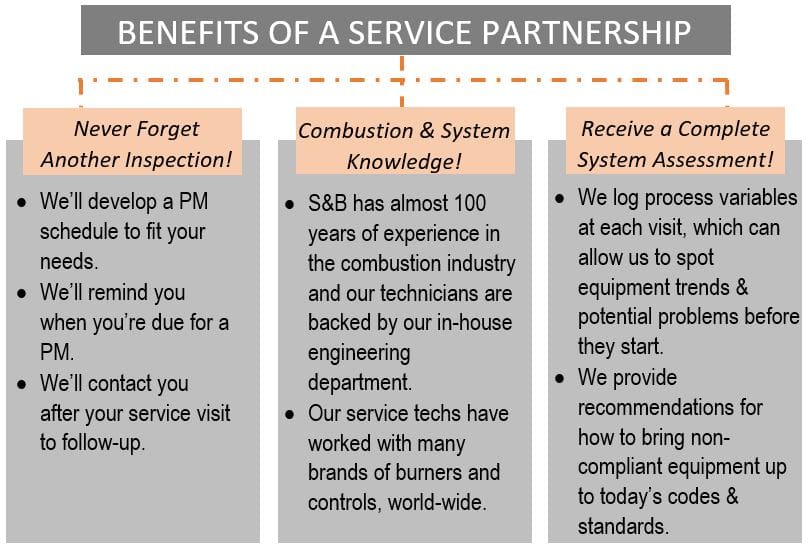 It's no secret that regular Preventative Maintenance on your Industrial Burner Systems will help keep your equipment running at optimal efficiency and will also improve reliability. By partnering with Stelter & Brinck for your PMs, not only will your system benefit, but you will also benefit in the following ways:
You'll never forget another combustion system inspection! We'll develop a reoccurring Preventative Maintenance schedule to fit your needs, remind you when you're due for your next PM and we'll call you after your service visit to follow-up.
Taking advantage of our combustion and system knowledge will help you to have more time to focus on other job tasks! Combustion is what we do; we have almost 100 years of combustion experience and our combustion service technicians are backed by our in-house engineering department! Allowing us to assist with your combustion needs, will help allow more time to spend on other job tasks.
You'll be more aware of your system, allowing you to act before a problem starts and to keep your equipment up to codes and standards. You will receive a complete assessment of your equipment after each PM visit, which will log process variables and provide recommendations for equipment updates going forward.
Below are some testimonial quotes from customers who have used S&B as their Industrial Burner Service Partner.
"S&B's techs are not only knowledgeable and friendly, but they look out for the customer's greater good. Stelter & Brinck's service technicians bend over backwards in order to help us out!"
-Larry McCammon, Keihin Indiana Precision Technology
"I am very confident S&B's technicians are knowledgeable and know exactly what they are doing!" -John Leach, GoodYear
"S&B's service technicians are professional, knowledgeable, and friendly. They are very easy to work with and have been very informative."
-Ben Davenport, TimberTech
"Stelter & Brinck's technicians are not only experts, but are backed by S&B's world-class engineering department. This combination makes for combustion services that are unrivaled."
-Randy Corns, 3-Sigma
For more information on Stelter & Brinck's combustion services, feel free to reach out to us.