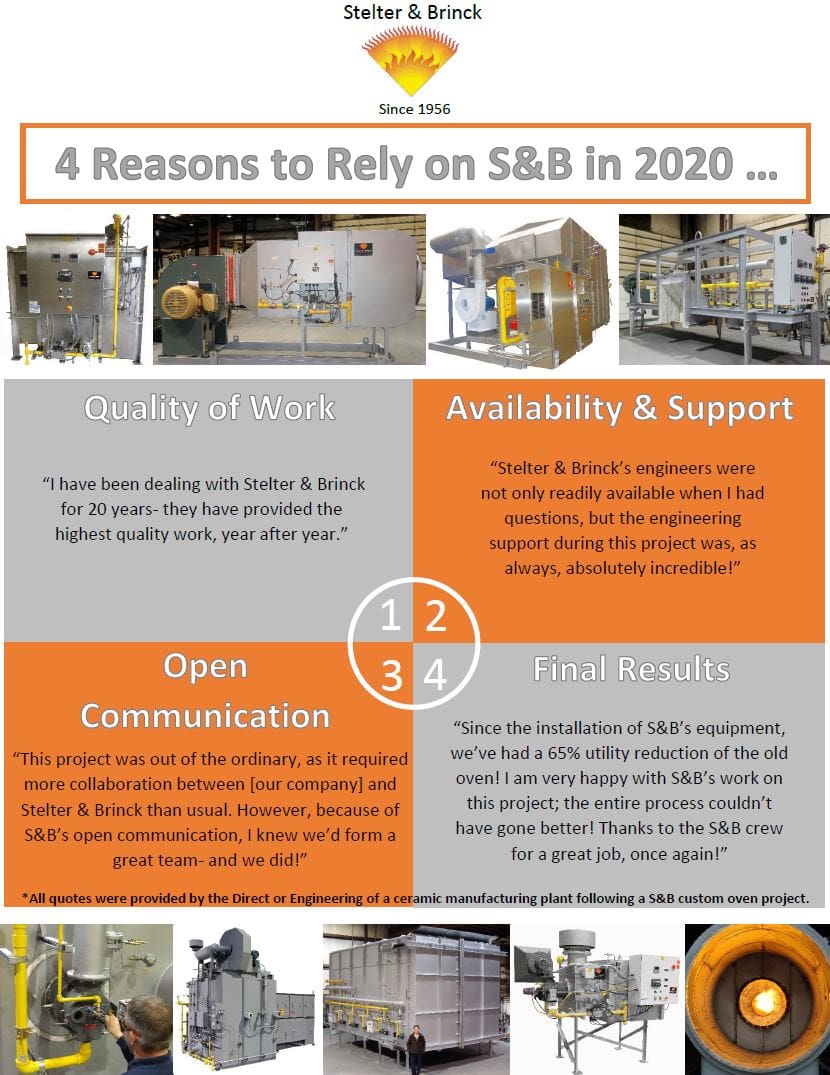 2020 is upon us and if you are in the market for any of the following process heat equipment or combustion services, Stelter & Brinck is happy to discuss your application!
Process Heat Equipment Custom Designed, Engineered & Built by Stelter & Brinck:
Process Air Heaters

Indirect Fired Air Heaters

Recirculating
Non-Recirculating
Straight-Through

Direct Fired Air Heaters
Packaged Air Heaters
Duct Type Air Heaters
Gun Style Air Heaters

Metals Industry Equipment

Ladle Dryers & Preheaters
Tundish Dryers & Preheaters
Scrap Preheaters & Dryers
Sow Dryers
Paste Heaters
SEN / SES Preheaters

Environmental Systems

Thermal Oxidizers
Catalytic Oxidizers
Afterburners

General Industrial Equipment

Ovens & Furnaces
Oven & Furnace Conversions

Integrated Packaged Systems (Skidded & Modular)
Combustion Systems

Packaged Systems
Skidded Valve Trains
Control Panel Systems

In-House Process Equipment Test-Firing
Combustion Field Services provided by Stelter & Brinck:
Preventative Maintenance
Start-Ups & Recommissioning
Upgrades/ Rebuilds/ Retrofits/ Repairs
Combustion Equipment Parts
Why should you should consider using Stelter & Brinck for your process heat and combustion service needs? Let one of our customer's tell you why he relies on Stelter & Brinck! Below are quotes provided by the Director of Engineering at a ceramic manufacturing plant following a S&B custom oven project. He makes statements with regards to Stelter & Brinck's quality of work, availability & support, open communication and of course, the final results.