Recirculating Indirect Process Air Heater (IAH-R)
High Efficiency/ Recirculating Indirect Air Heater (IAH-R)
Recirculating indirect air heaters feature hot combustion air recirculation to provide clean (free from the by-products of combustion) hot air in thermal efficiencies up to 90%.
With high thermal efficiencies, Stelter & Brinck's hot side recirculating process air heater provides lower fuel and operating costs than our non-recirculating units. Our recirculating indirect model is best suited for higher flow, higher temperature, long production hours or other applications where fuel efficiency is of primary concern. (Designs up to 1200°F process air outlet temperature are standard- call factory for higher temperature requests.)
Stelter & Brinck's IAH-R-USDA unit has been certified as being USDA compliant equipment for the dairy industry.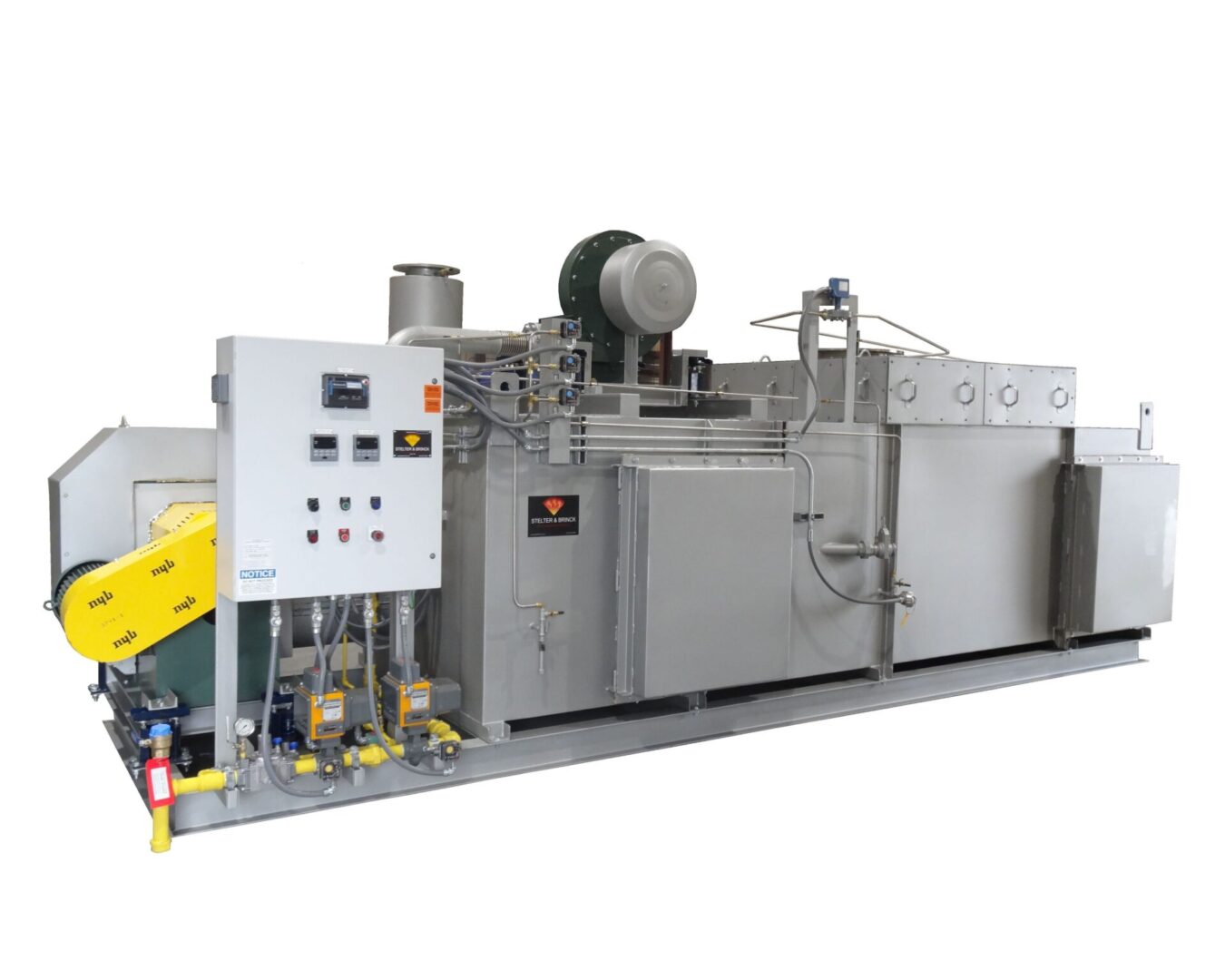 High Pressure IAH-R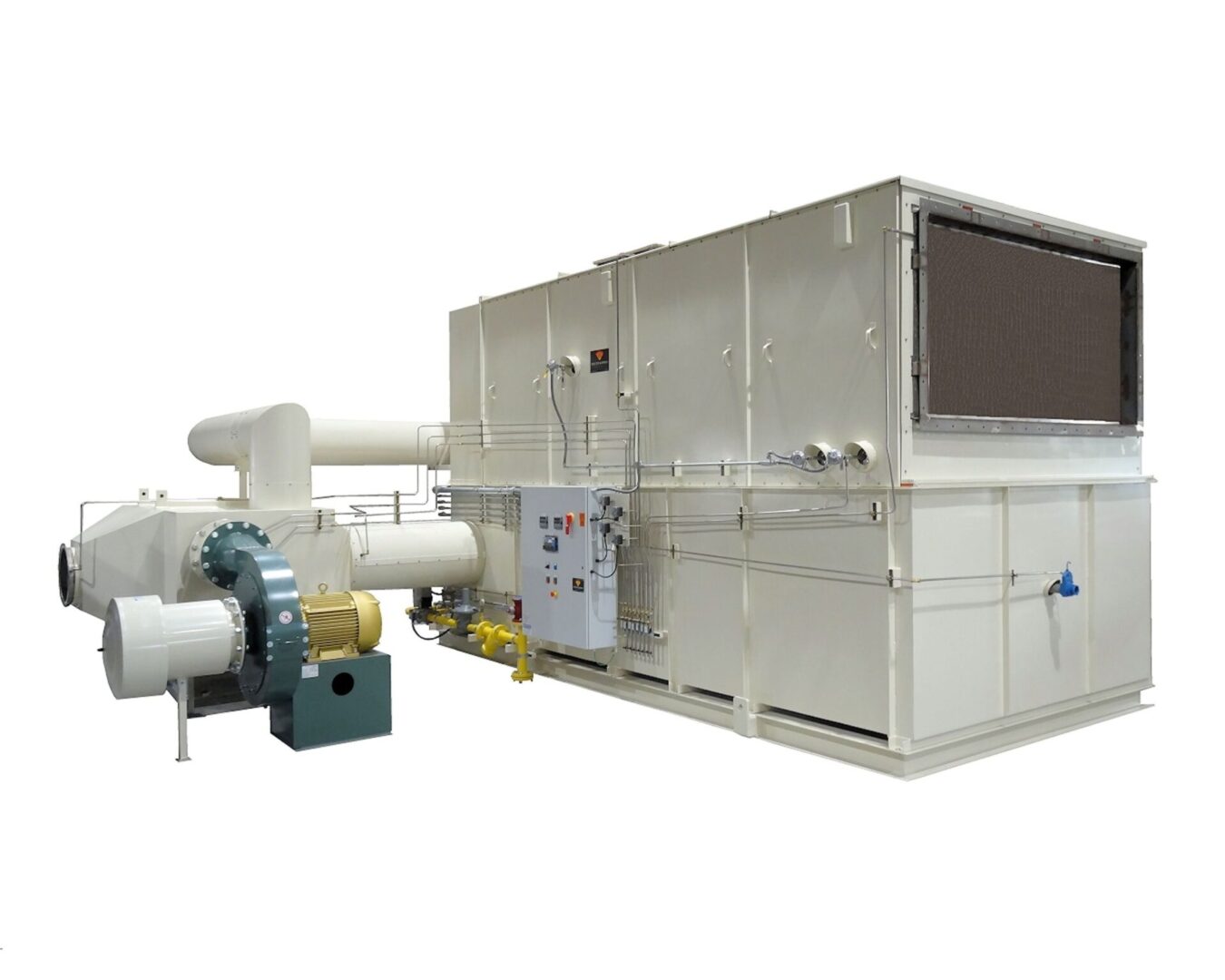 "Economizer"- IAH-R with Combustion Air Preheat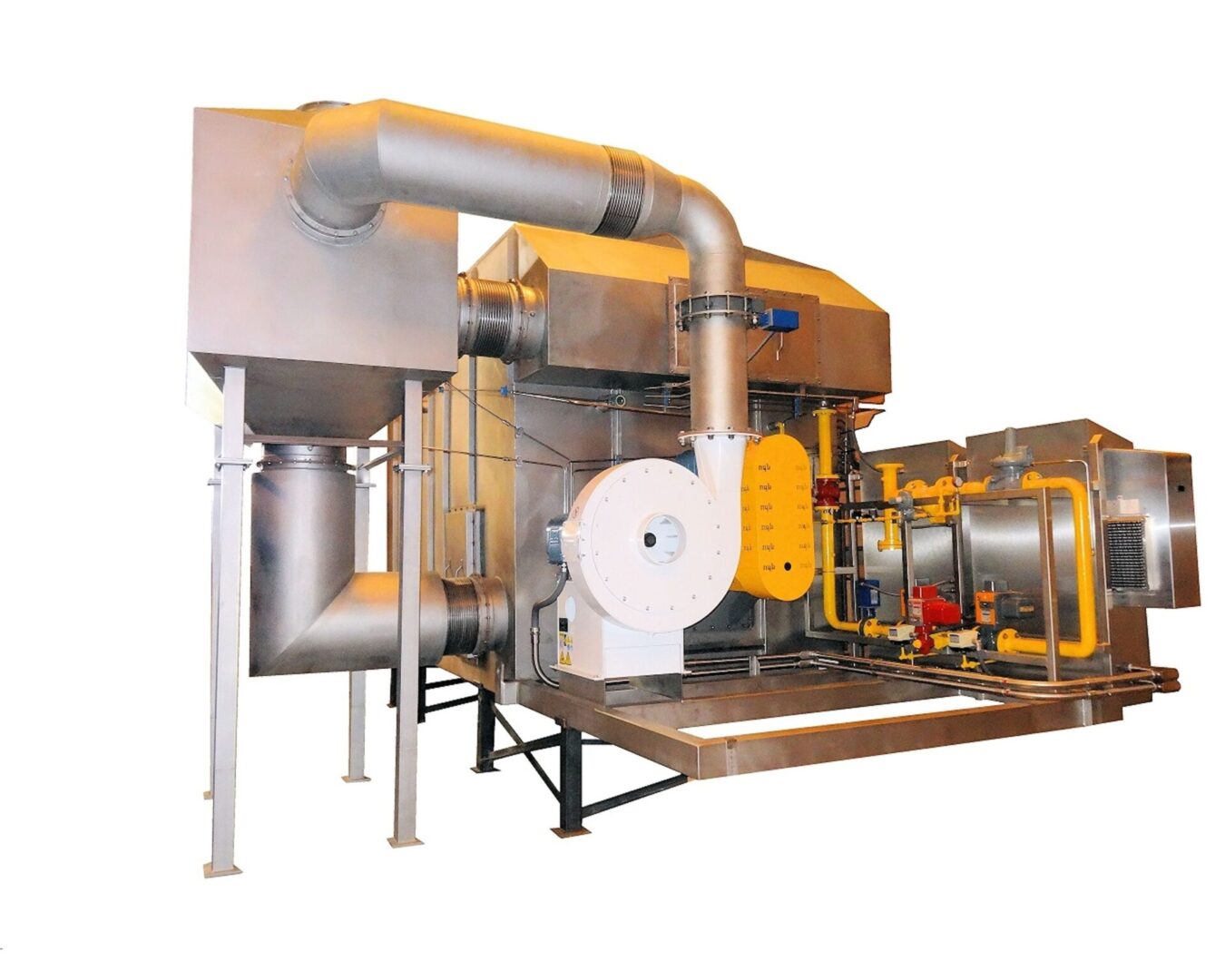 USDA Dairy Accepted IAH-R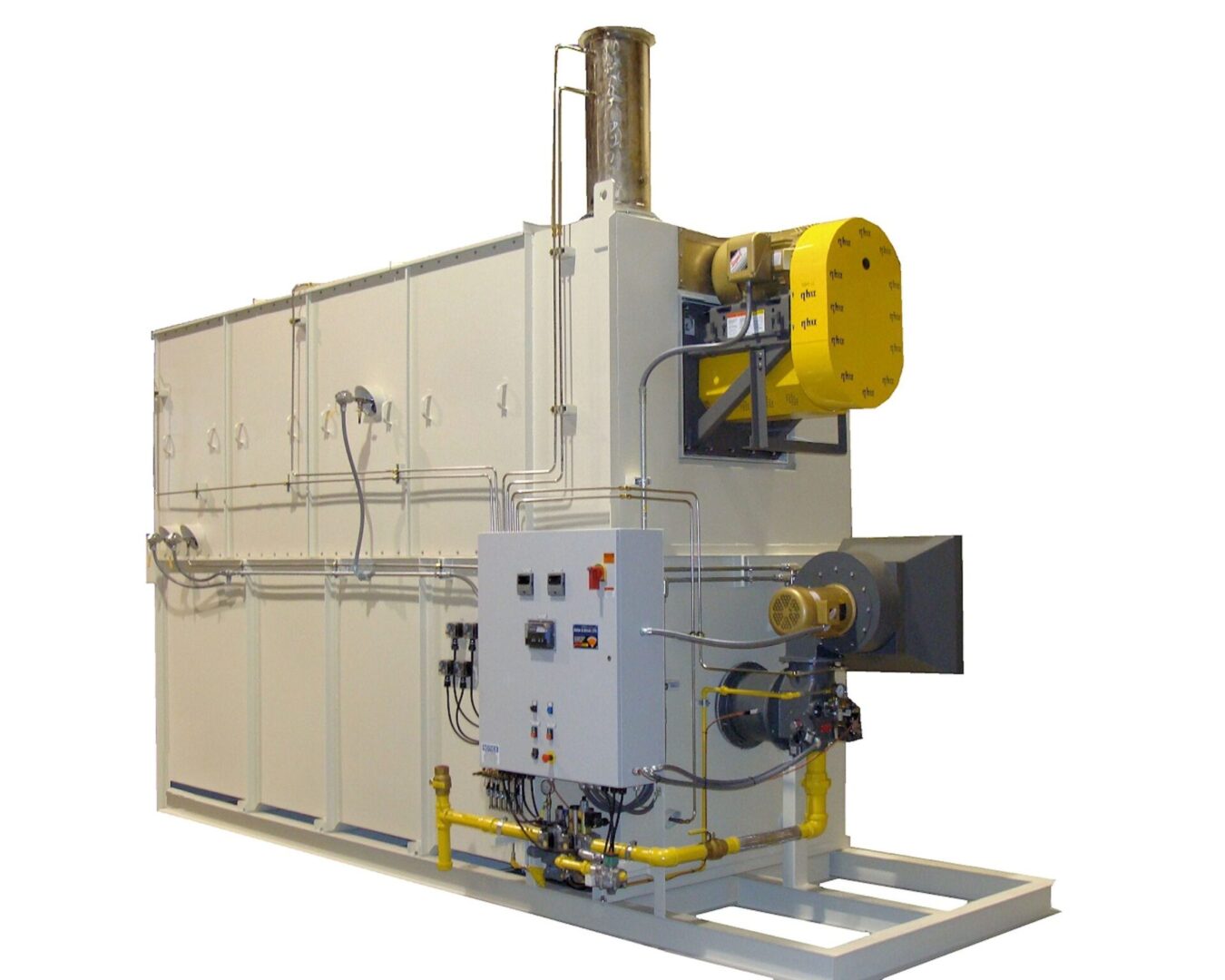 Indirect Fired Air Heater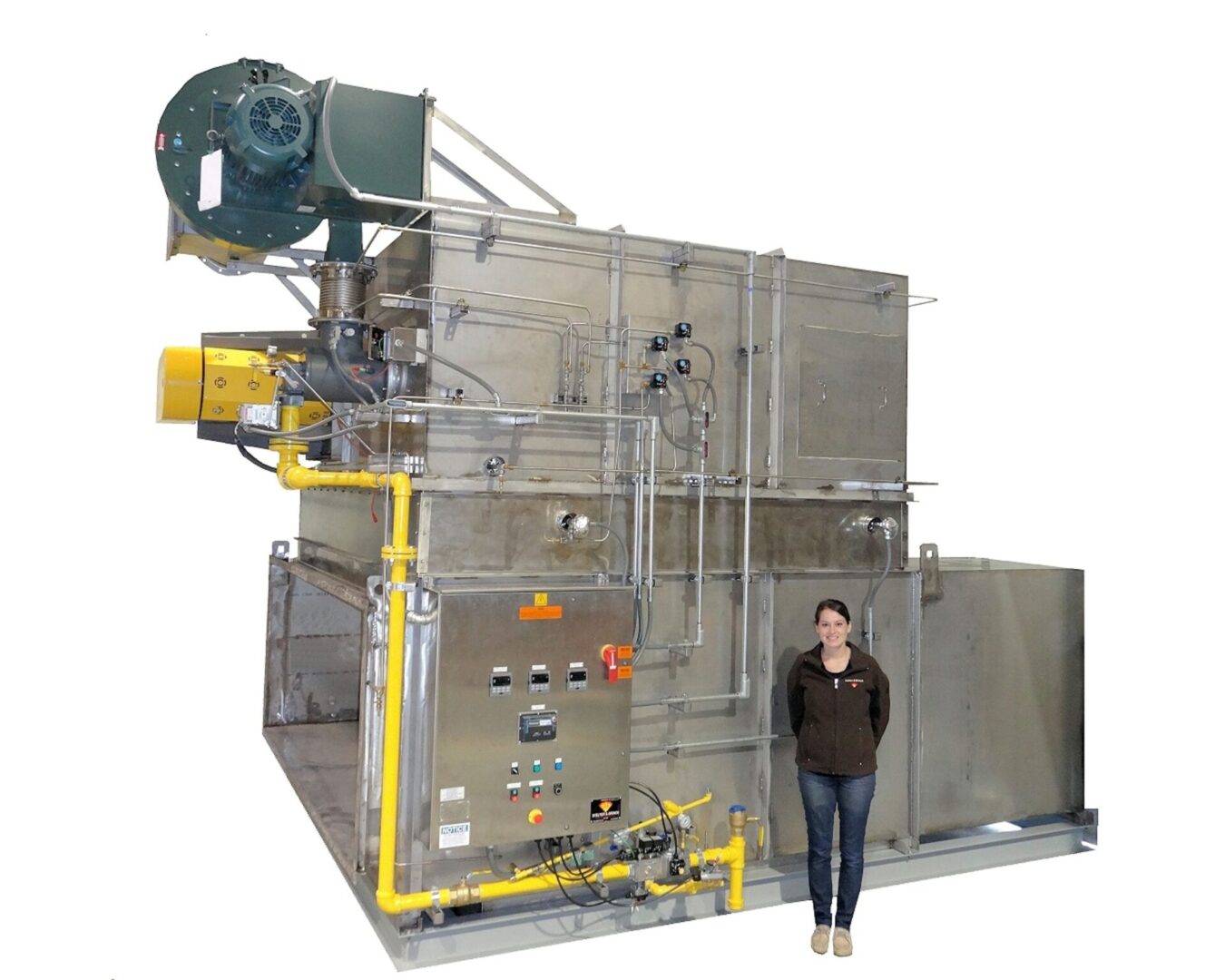 Stainless Steel, Recirculating Indirect-Fired-Process-Air-Heater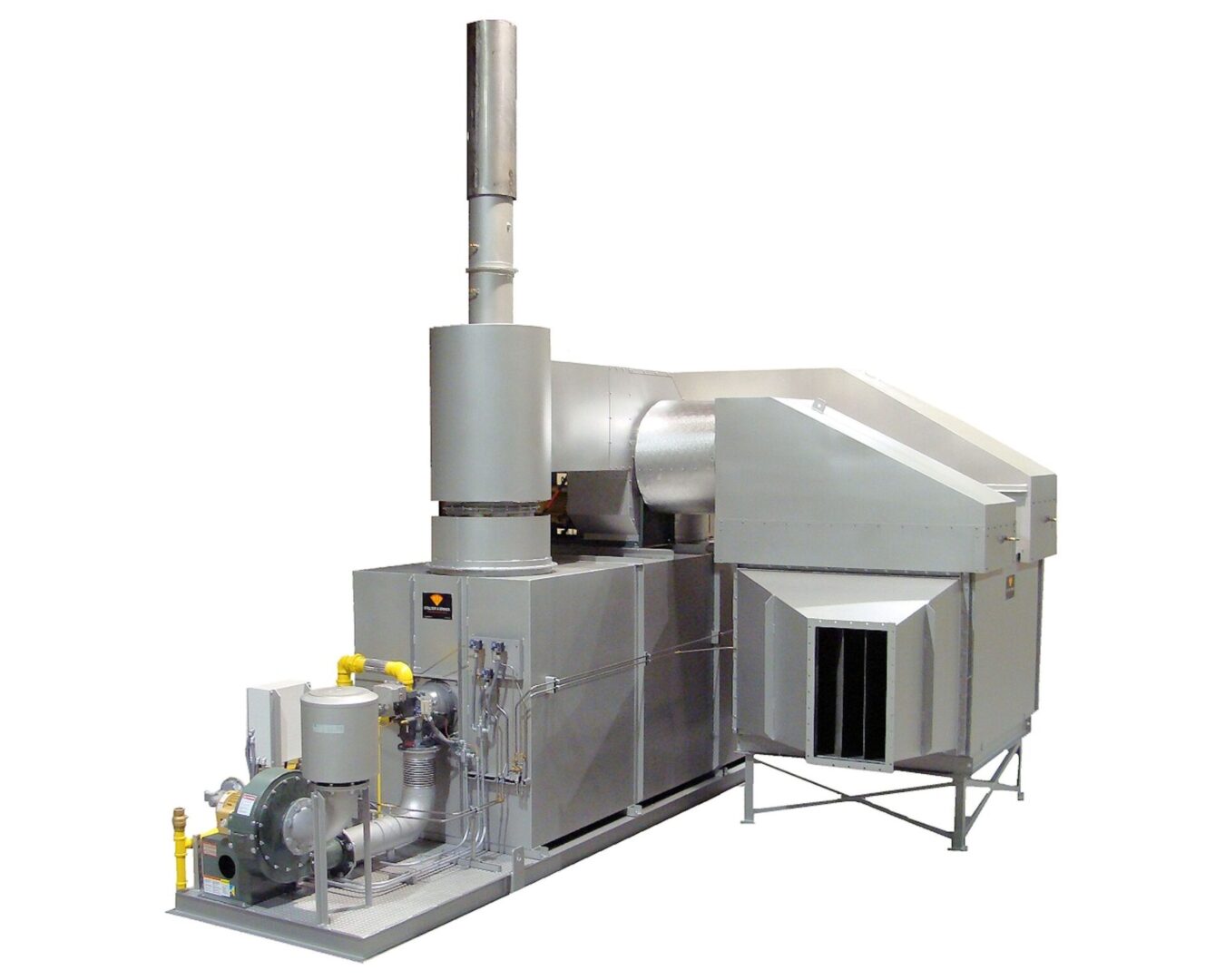 Custom arranged Indirect Fired Air Heater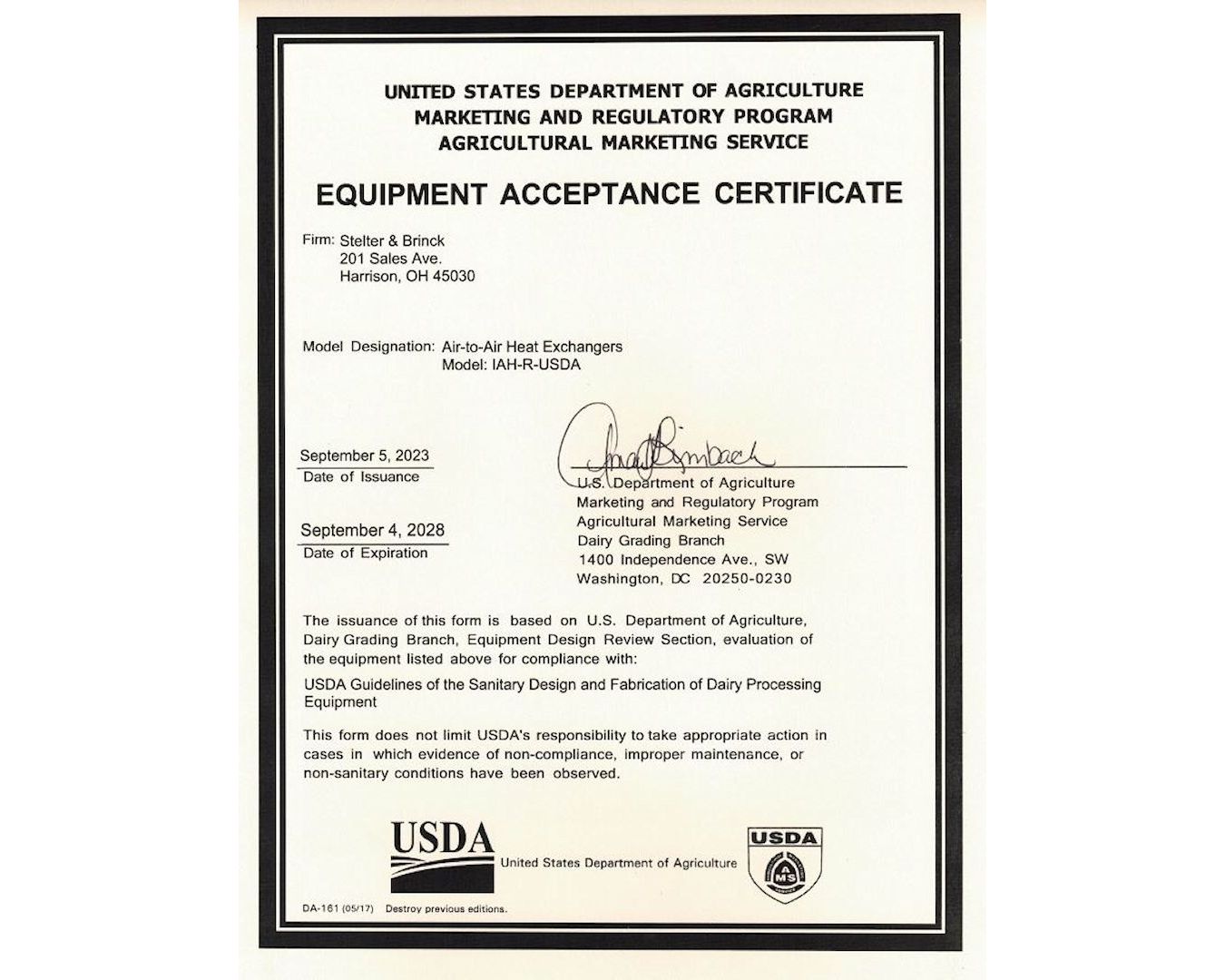 USDA-Certificate
Packaged with hot side blowers, air heat burners, heat exchanger and controls, S&B's indirect fired air heaters offer the utmost in customer convenience with total prewired and pre-piped assembly. S&B's recirculating indirect process air heaters are designed to be easy to use and install, among the features offered are:
Structural steel skid mounted assembly
Prewired to control enclosure for interconnection to customer's DCS, or remote operator station
Integral control panel with annunciator, FM approved high temperature limits, air pressure switches, PID digital temperature control (single and multi-loop available), flame safety relay, main power disconnect, control transformer, and hot side blower motor starters; UL 508A priced per request
Built to meet your requirements (FM, CE, GAP, NFPA or CSA construction standard)
Insulated and skinned combustion chamber
On-site start-up and on-going air heater maintenance available
CUSTOM DESIGN OPTIONS:
Different layouts available
Control interface for PLC or DCS operation
Process supply blower and transitions
Secondary heat recovery for combustion air
Stainless steel construction
ADVANTAGES OF A STELTER & BRINCK INDIRECTLY FIRED AIR HEATER:
A product of more than 95 years of experience with process heat equipment, Stelter & Brinck gas fired indirect air heater units provide unmatched performance in industrial applications. These indirect air heating systems are available in medium efficiency models for low capital cost, and high efficiency units for lower operating costs.
Single point fuel and power connection
Thermal efficiencies to 90%
High energy turn-down
High & low process air temperatures
Fully proportional process temperature control
Indirect air heaters can be provided to fire on natural gas, propane gas
Designed for easy cleaning and maintenance
All welded heat exchanger, with heat exchanger materials chosen specifically for your application
Provides heat free of the by-products of combustion
USDA INDIRECT FIRED AIR HEATER (IAH-R-USDA)
After a thorough evaluation, The United States Department of Agriculture (USDA) Dairy Equipment Review Program certified S&B's IAH-R-USDA as compliant in the USDA Dairy Grading Branch Survey Program (read more). Dairy drying plants which require USDA Dairy Grading certified equipment can now benefit from the clean, hot air provided by Stelter & Brinck's USDA Indirect Air Heater.
The IAH-R-USDA takes advantage of recirculated hot side combustion air to provide high temperature capabilities and high thermal efficiencies to 90%. These indirect air heaters are completely packaged with hot side blowers, burner, gas valve train, heat exchanger and controls. Our USDA units are built to meet your construction standard requirements and arrive on-site prewired, and pre-piped.
Horizontal or vertical layouts available; designed to fit your plant's layout and footprint needs.
UL508A enclosure
Low emissions options available.
S&B's internal QC team test-fires and tunes before shipment.
On-site start-up and on-going maintenance available.