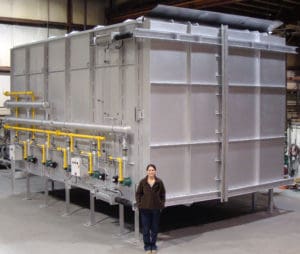 Overview & Features
Stelter & Brinck's specialty ovens and furnaces are custom built units best suited for high temperature applications or for use in harsh environments. The heavy-duty construction of our ovens and furnaces combined with our long history and vast experience in the process heating arena makes for unmatched quality. Among the features are:
Custom designed & manufactured in-house.
Designed to be easy to use, install & maintain.
Options for low emissions.
Can feature remote control interface capability for use with PLC or DCS systems.
Control panel with annunciator, PID digital temperature control (single or multi-loop), FM approved high temperature limit, flame safety relay, main power disconnect, control transformer, and process blower motor starter.
UL 508A priced per request.
Built to meet your construction standards.
Subjected to S&B's rigorous QC and test-firing program before shipment.
Start-up and on-going maintenance are available through S&B's field service department.
Our design flexibility, attention to detail and the pride we take in our work ensure that our customers are able to place their specialty oven or furnace order and feel confident that it will perform as promised.
Common Systems
Stelter & Brinck oven and furnace systems are typically used for heat treating metals, ageing aluminum and drying and curing refractory. Some examples of specialty systems we've designed and manufactured include:
Pot Furnaces– soft metal holding pot furnaces.
Batch Stress Relieving Furnace – features side to side, recirculating flow at high rates to insure uniform heating. Controls provide ramped heat-up, soak, and cool down.
Ring-Style Heat Treat Furnace – steel rolls for use in steel rolling mills are heat treated in these unique ring style furnaces.
Aluminum Sheet Coil Ageing Oven – processing aluminum sheet in roll form.
Specialty Tube Furnace to Cure Ceramic Coating on Small Diameter Pipe – a continuous furnace to cure ceramic coated piping.
Pit Annealing Furnace – furnace with lift off lid featured high velocity combustion system and castable refractory hearth.
Pictures: