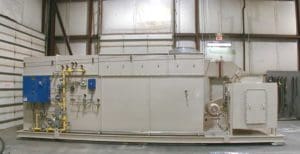 Catalytic Oxidizer Overview
Our last blog discussed how Thermal Oxidizers destroy harmful VOCs, generated by manufacturing certain products. Another type of environmental system Stelter & Brinck designs and manufactures to remove process air stream exhaust of VOCs are catalytic oxidizers. Catalytic Oxidizers are the best option for VOC laden airstreams that are free of catalyst fouling agents. Typical industries include: textile finishing, plastics, wood-fired boilers, aluminum and steel, bakeries and many more!
Catalytic Oxidizers employ a noble metal catalyst monolith to destroy the VOCs. The oxidizer's metal catalyst uses a lower temperature air stream to destroy VOCs than a Thermal Oxidizer, and thus, the Catalytic Oxidizer uses less fuel and has lower associated operating costs.
Features and Benefits of S&B Catalytic Oxidizers:
Stelter & Brinck's Catalytic Oxidizer comes standard with heat recovery to preheat the incoming VOC laden air stream, but secondary heat recovery is an option if hot air is needed elsewhere in the facility.
Our catalytic oxidizers stand-out amongst the competition for the following reasons:
Custom designed & manufactured in-house to your fit your needs
Destruction efficiency compliance guaranteed
Fully packaged and ready to install
Options for high efficiency with primary heat recovery designed by S&B
Heavy-duty construction
Can feature remote control interface capability for use with PLC or DCS systems
Are built standard with the latest in flame safety technology
UL 508A panel option available per your request
Rigorously tested & tuned before shipment
Easy maintenance; easy access to valve train & control panel
Subjected to S&B's exclusive QC and test-firing program before shipment
Stelter & Brinck's combustion field service crew can start-up and maintain your oxidizer
While catalytic oxidizers cannot be used in as many plants as thermal oxidizers, they do tend to be more fuel efficient. In fact, the Engineering Manager at a client who manufactures automotive parts stated, "Since installation, S&B's oxidizer has continually destroyed 99.9% of our VOC emissions; our entire plant has reduced pollutants by 70%!"
Catalytic Oxidizer Models and Pictures:
Catalytic Fume Oxidizer with Heat Recovery (CFO-HX). These pollution control systems are for applications of less than 20% LEL.
2.Catalytic Fume Oxidizer without Heat Recovery (CFO). These pollution control systems are for applications of less than 20% LEL.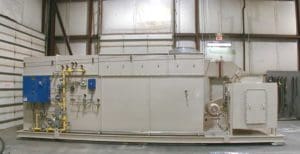 Catalytic Oxidizer Video:
Watch our newest YouTube video if you're interested in learning more about Stelter & Brinck's Catalytic Oxidizers- how they work, their features, and more testimonials: https://www.youtube.com/watch?v=S3VzhRPgKho