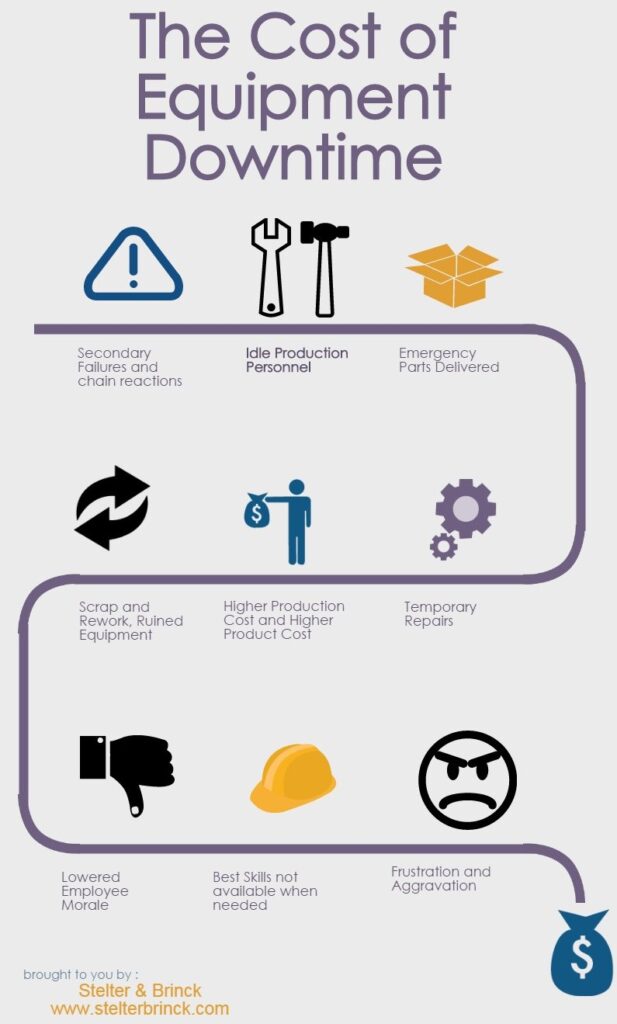 Preventative Maintenance (PM) sometimes takes a back seat to other issues on ever-growing "to-do" lists. For many companies, planned maintenance is often an afterthought. If you aren't experiencing a problem, it is easy to dismiss value of the benefits gained from combustion system preventative maintenance.
The True Cost of Equipment Downtime
Unpredicted downtown can result in the following associated costs:
Secondary failures and chain reactions
Idle production personnel
Higher cost of inventory
Lost production capability
Scrap and rework
Production overtime
Temporary repairs
Higher product costs
Ruined equipment
Frustration/ aggravation
Lost customers/ lost work
Lowered employee morale
Emergency parts deliveries
Best skills not available when needed
Performing regular preventative maintenance will reduce downtime and its associated costs. By being pro-active about equipment maintenance, you will also move away from our society's "repair" focused approach and will be adapting a "reliability" focused attitude. Every plant's maintenance needs are different, but each plant should have a preventative maintenance plan custom designed to be just that: "preventative".
Cost of Downtime Infographic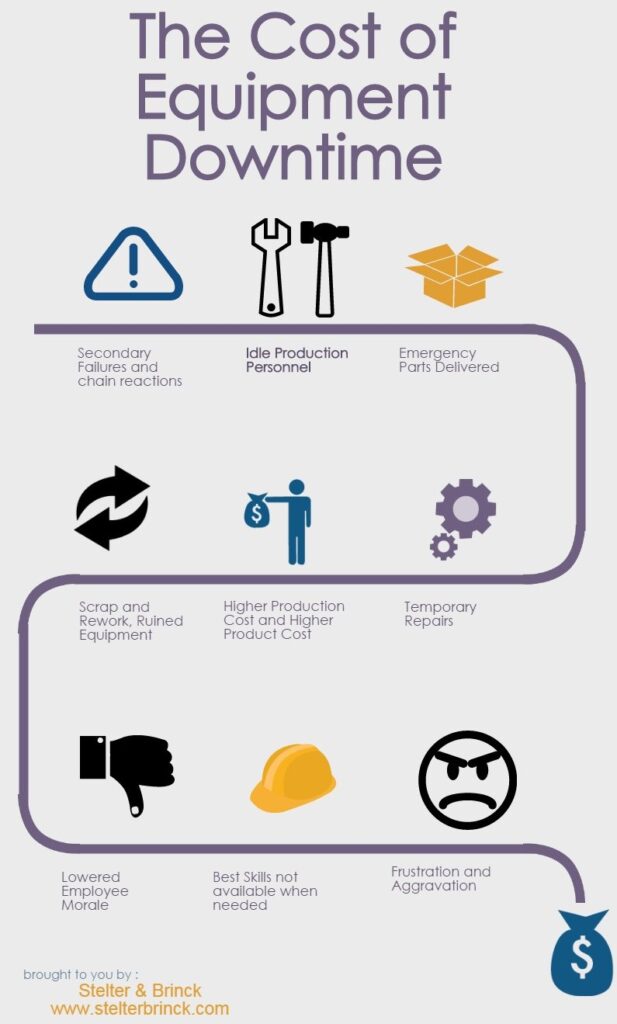 3 Ways to Minimize Industrial Combustion System Downtime
As you can see from above, unexpected downtime can greatly affect a business' bottom line. So what are ways to minimize the downtime of your industrial combustion system?
Regular Combustion System Evaluations and Maintenance
An industrial burner service company, like Stelter & Brinck, can administer regular equipment evaluations and maintenance on your system. Evaluating your combustion system to check the integrity of all parts and being pro-active about equipment maintenance helps improve reliability and reduces the chances of unexpected downtime.
2.Get to Know Your Equipment's Strengths and Weaknesses
After Stelter & Brinck completes your industrial burner service visit, we will issue you an in-depth report. Our combustion service report will help you learn the "ins and outs" of your equipment; the report points out areas of excellence and areas where there is room for improvement. The purpose of the suggested updates on the report are to help you predict potential equipment problem areas and avoid unexpected downtime.
3.Update or Upgrade the Equipment
Old combustion equipment that continually slows down your manufacturing process, needs to be updated or replaced. Not only is it important to keep your equipment up to codes and standards, but it is also important to consider how new technology will improve your productivity. If it's time for your equipment to replaced, Stelter & Brinck can handle the combustion system upgrade.