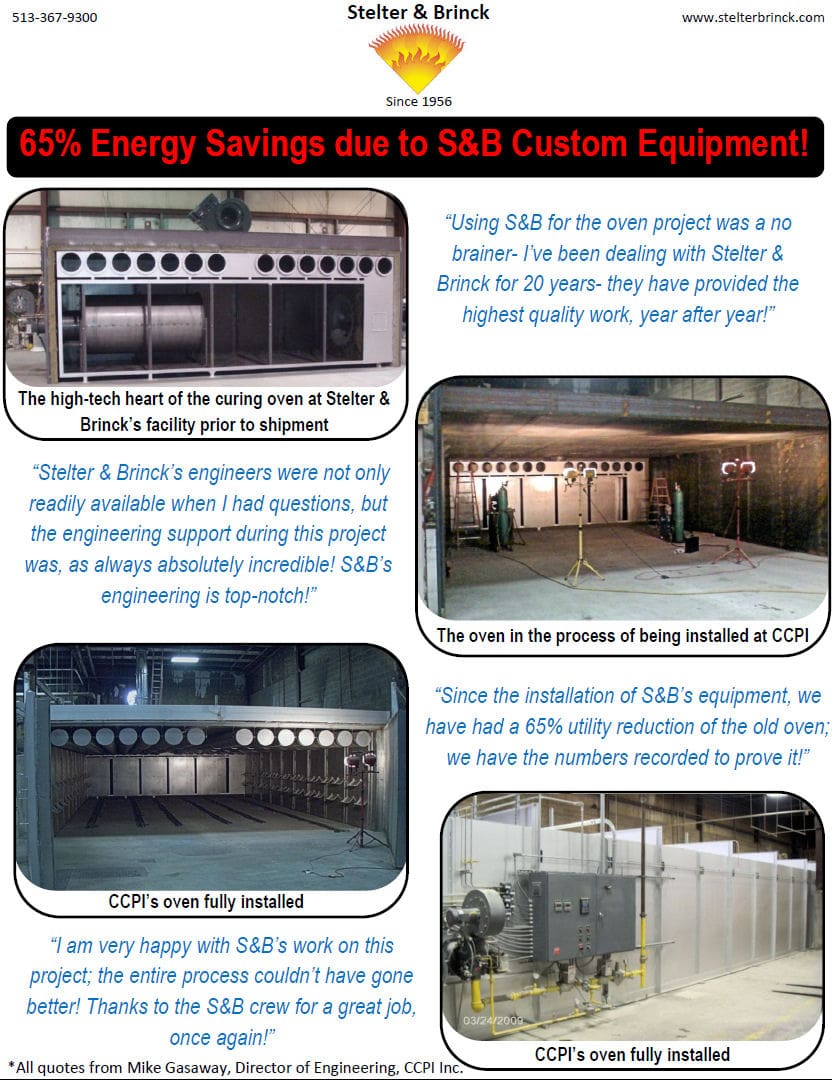 Situation:
CCPI, or Consolidated Ceramics Products Incorporated, provides incomparable temperature
measurement solutions to the ferrous, non-ferrous, heat treatment and glass industries. CCPI's domestic manufacturing facility in Blanchester, Ohio was in need of a new, more efficient curing oven that was up to codes and standards.   
Solution:
CCPI looked to Stelter & Brinck for their process heating needs. According to the Director of Engineering at CCPI, "using Stelter & Brinck for the oven project was a no brainer." He explained that CCPI had been relying on Stelter & Brinck for 20 years and throughout relationship, S&B "has provided the highest quality of work, year after year!"
Results:
Below are images of the custom curing oven Stelter & Brinck built for CCPI and the results of this project

Here is what CCPI's Direct of Engineering had to say:
"Since the installation of S&B's equipment, we've had a 65% energy savings over the old oven; we have the numbers recorded to prove it!"
"Stelter & Brinck's engineering department is top-notch. The engineering support during this project was, as always, absolutely incredible!"
"This project was out of the ordinary, as it required more collaboration between CCPI and Stelter & Brinck than usual. However, because of S&B's open communication, I knew we'd form a great team- and we did!"
"I've been dealing with Stelter & Brinck for 20 years; they have provided the highest quality work, year after year."
The most notable result is the fact that CCPI had a 65% energy savings over their old curing oven! CCPI has expressed that they were "very happy with S&B's work on this project the entire process couldn't have gone better!"
Thank you, CCPI! It was a pleasure to work with you again- this custom oven project required more collaboration that usual, but we formed a great team and it was very successful!