Direct Fired Duct Air Heaters
Our industrial direct gas-fired duct air heaters are completely packaged with air heat burners and controls. Designed to fit into the processes' duct work, these process air heaters offer the utmost in customer convenience with prewired and prepiped assembly.
Duct-style fired air heaters are used independently or in conjunction with dryers, kilns, ovens, furnaces and other heat equipment. Applications include baking, curing, heat treating, printing and many more.
Stelter & Brinck duct air heaters are available in fresh air duct section, recirculating duct section, and selective catalytic reduction models. A low-emissions option is available for each of our industrial duct air heater models.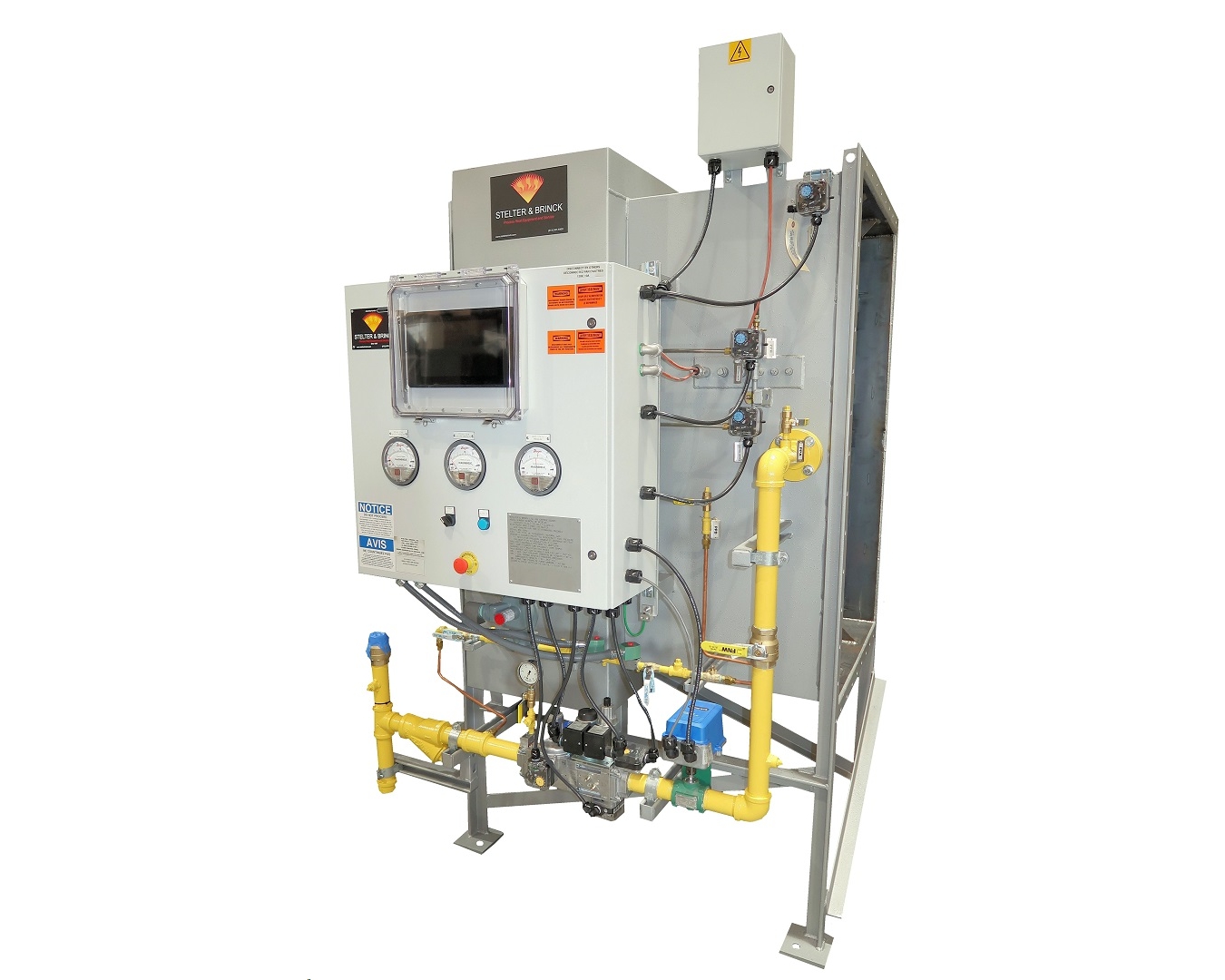 Duct Style Natural-Gas-Fired Air-Heater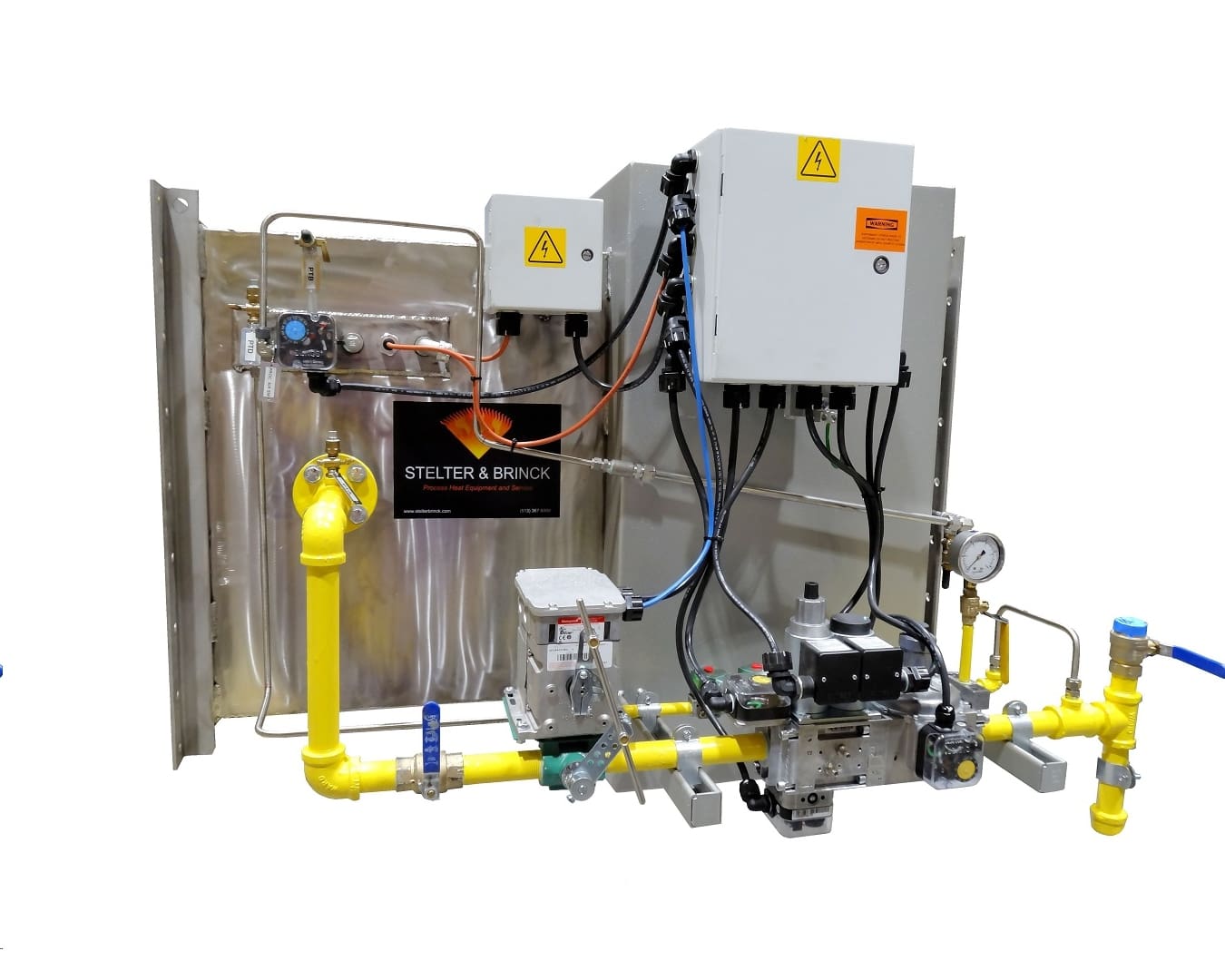 Stainless Duct Air Heater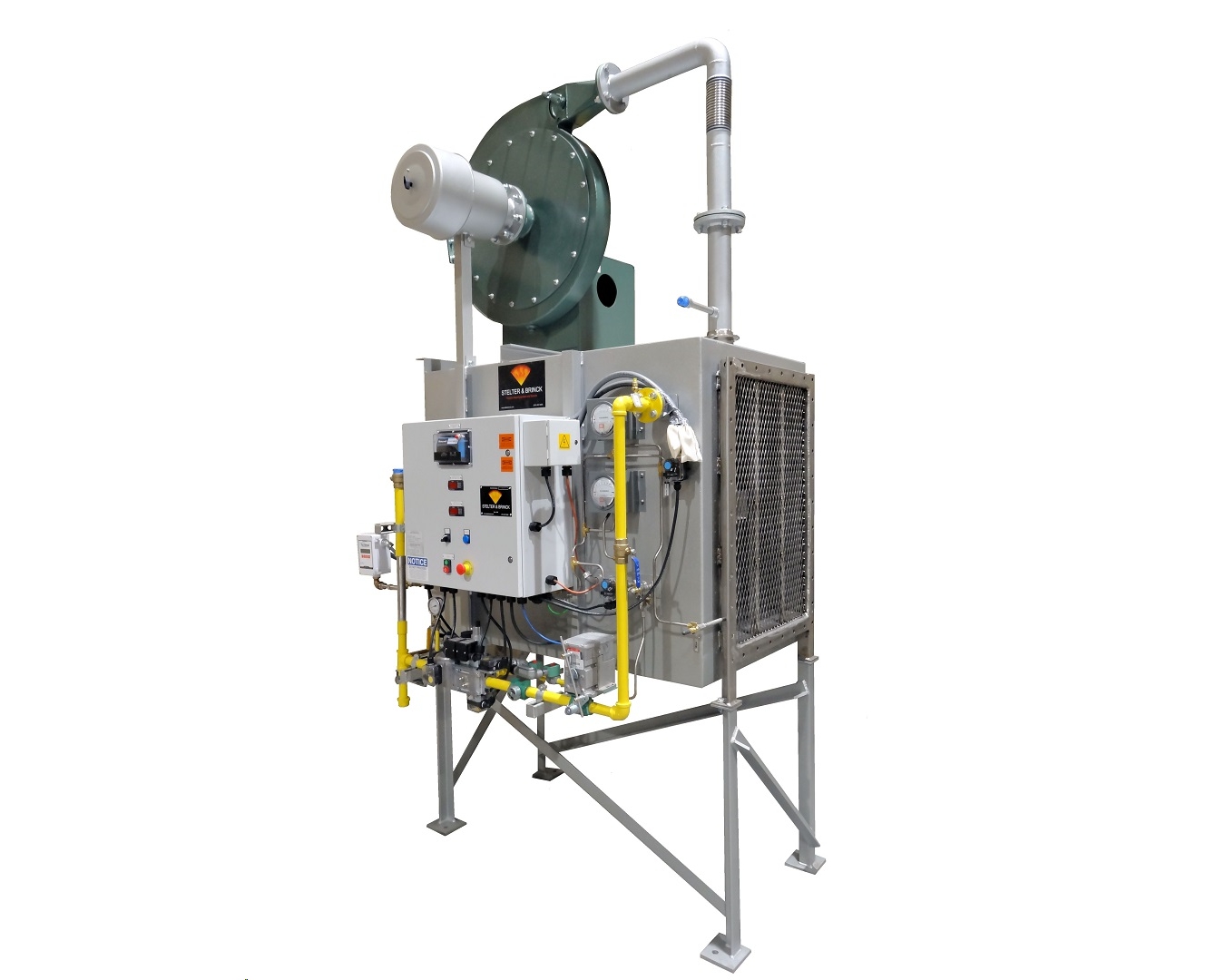 Duct Style Recirculating Process Heater
Recirculating Direct Fired Duct Air Heater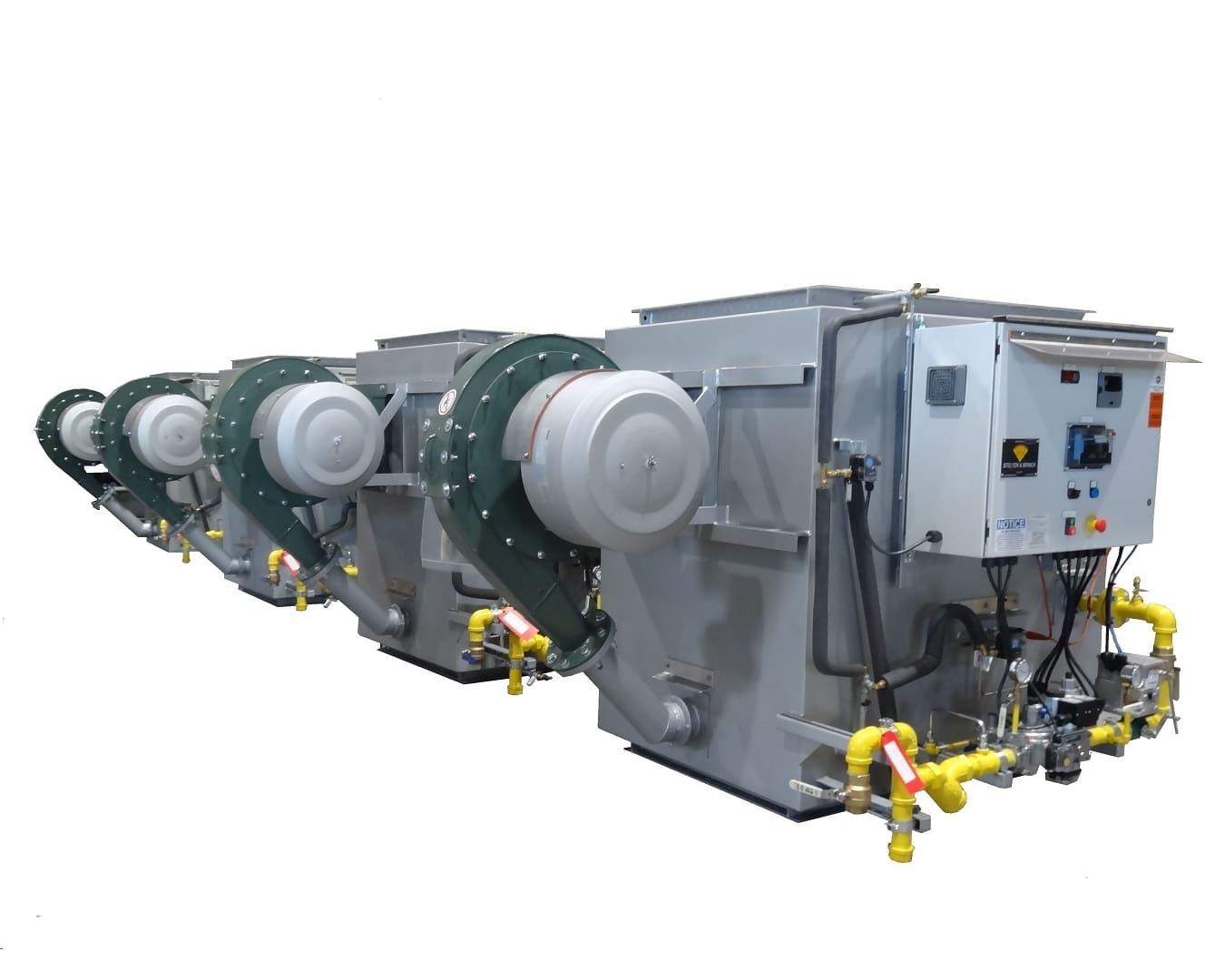 Vertical Up-Fired Duct Air Heaters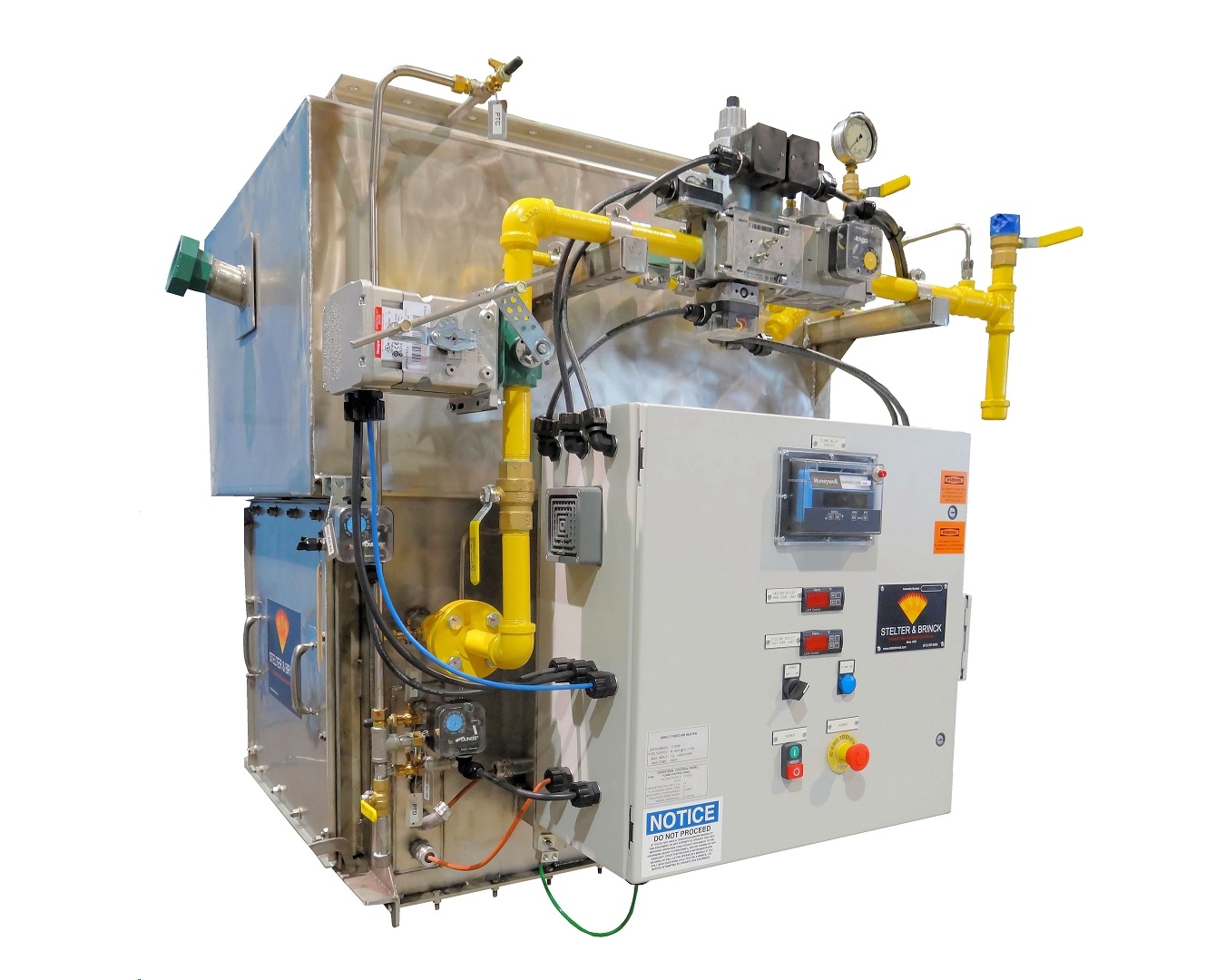 Duct Style Heater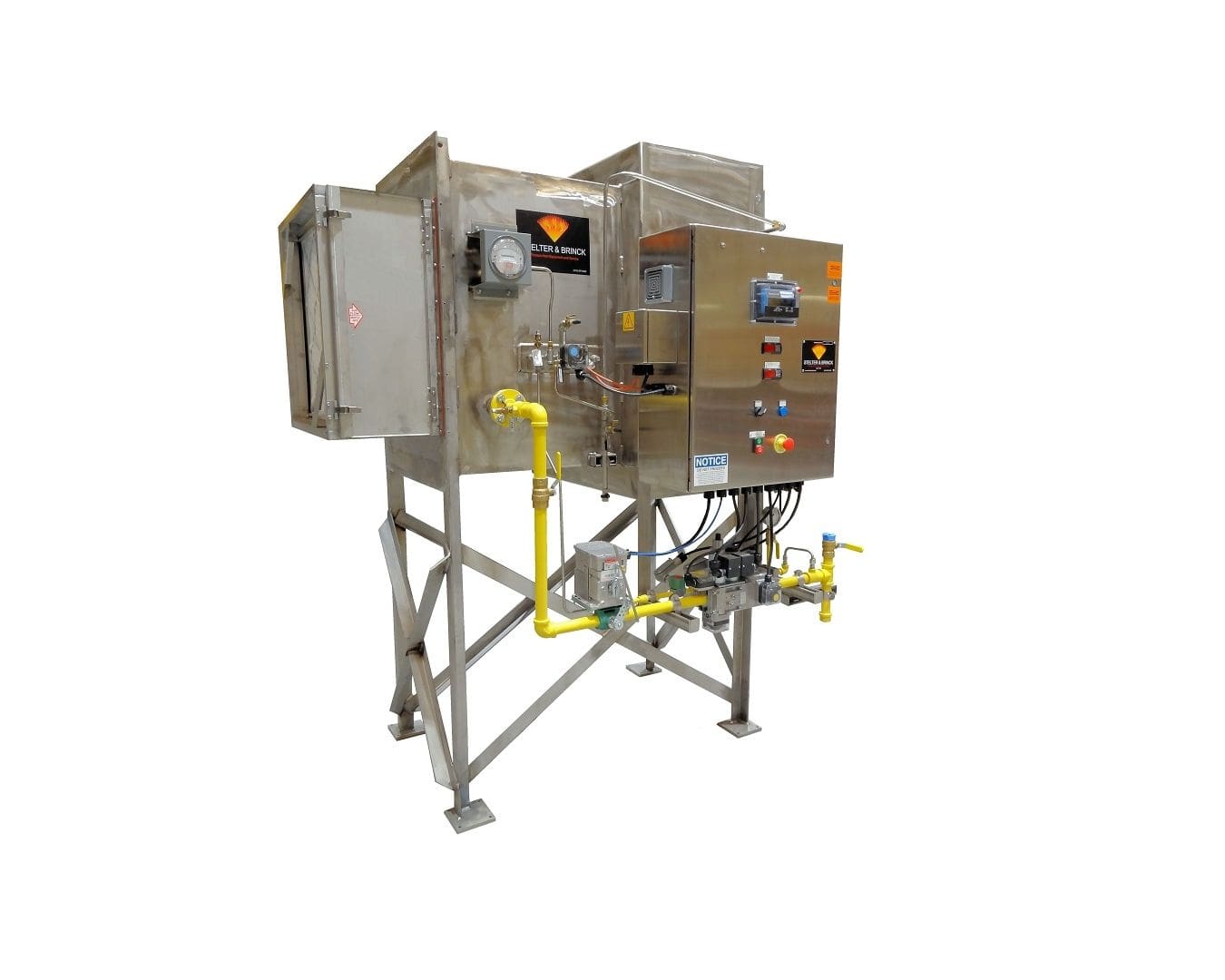 Duct Style Industrial Process Air Heater
Stelter & Brinck industrial duct air heaters are designed to be easy to use and install, among the features offered are:
Control panel with flame safety relay, first out annunciator, relays and breakers, alarm horn, local start/stop push buttons, illuminated "E" stop button, indicator lights, FM approved high temperature limit, and PID digital temperature controller (single or multi-loop). UL 508A priced per request.
Remote control interface capability for use with PLC or DCS systems available.
Built to meet your requirement (FM, CE, GAP, NFPA or or CSA construction standard).
ADVANTAGES OF AN S&B AIR HEATER:
Stelter & Brinck duct heaters are designed to provide unmatched performance in direct fired air heating. Our duct heaters are a product of more than 95 years of industrial combustion equipment experience and feature:
High energy turndown
Fully proportional temperature control valve
Fires on natural, propane, or butane gasses. Other fuel options available upon request.
Rigorously tested and tuned before shipment
Easy maintenance, easy access to all parts
Stelter & Brinck's combustion field service crew can start-up and maintain your direct fired air heater
FRESH AIR DUCT SECTION AIR HEATER (AHD)
AHD Style Process Air Heaters are designed to be inserted right into your process ductwork. The burner in our AHD units uses the oxygen present in the process stream for combustion eliminating the need for an additional combustion air source.
As the name suggests, our Fresh Air Duct Heater is suitable for use on clean air streams. Our AHD features:
Steel liner, insulated & covered with steel skinning
Flame peep sight
Packaged fuel control and safety valve train
Single point fuel connection
Prewired to numbered terminal strip
RECIRCULATING DUCT SECTION AIR HEATER (AHDR)
AHDR Air Heaters are designed to be inserted right into your process ductwork. The direct-fired, recirculating duct air units are designed for recirculating industrial process air streams with low oxygen content and feature a combustion blower.
High and low inlet and outlet temperatures are acceptable. The AHDR features:
Combustion air inlet
Fully insulated, heavy steel construction
High turndown burner
Prepiped and prewired fuel valve train
Packaged fuel control & safety valve train
Single point fuel connection
SELECTIVE CATALYTIC REDUCTION AIR HEATER (SCRAH)
Selective Catalytic Reduction (SCR) Air Heaters are low NOx, direct fired systems which can be designed to be either a start-up air heater or a post-heater (reheater). SCR Air Heaters are typically used in conjunction with utility boilers, tail-end SCR configurations, and with any other system where nitrogen oxides (NOx) are present, but the flue gas temperature is below the range required for the SCR catalyst reaction.
SCR start-up air heaters prevent low temperature corrosion during boiler start-up.
SCR Air Reheaters can also be referred to as Flue Gas Heaters or SCR Duct Burners.
Can use the oxygen present in the flue gas or a separate combustion air source, if there is not enough oxygen present in the stream.
Provide consistent and reliable performance in tough conditions.
Fully packaged, pre-piped and prewired.
Like all S&B equipment, our SCR Air Heaters are tested fired and tuned before shipment in our factory.