Direct-Fired Air Heaters with Process Blowers
As the name suggests, our direct gas-fired packaged air heaters are complete packages; they include a burner as well as a process supply blower. Each air heater is completely prepiped and prewired and complete with flame safety controls, process temperature controls, and motor starters.
These direct-fired air heaters are used as the hot air source in dye and paint manufacturing, molds processing, printing, ect.
Our packaged process heaters are natural gas, propane, or butane direct-fired units. Each unit is test fired & tuned before shipment in our production facility. Available in a low emissions option.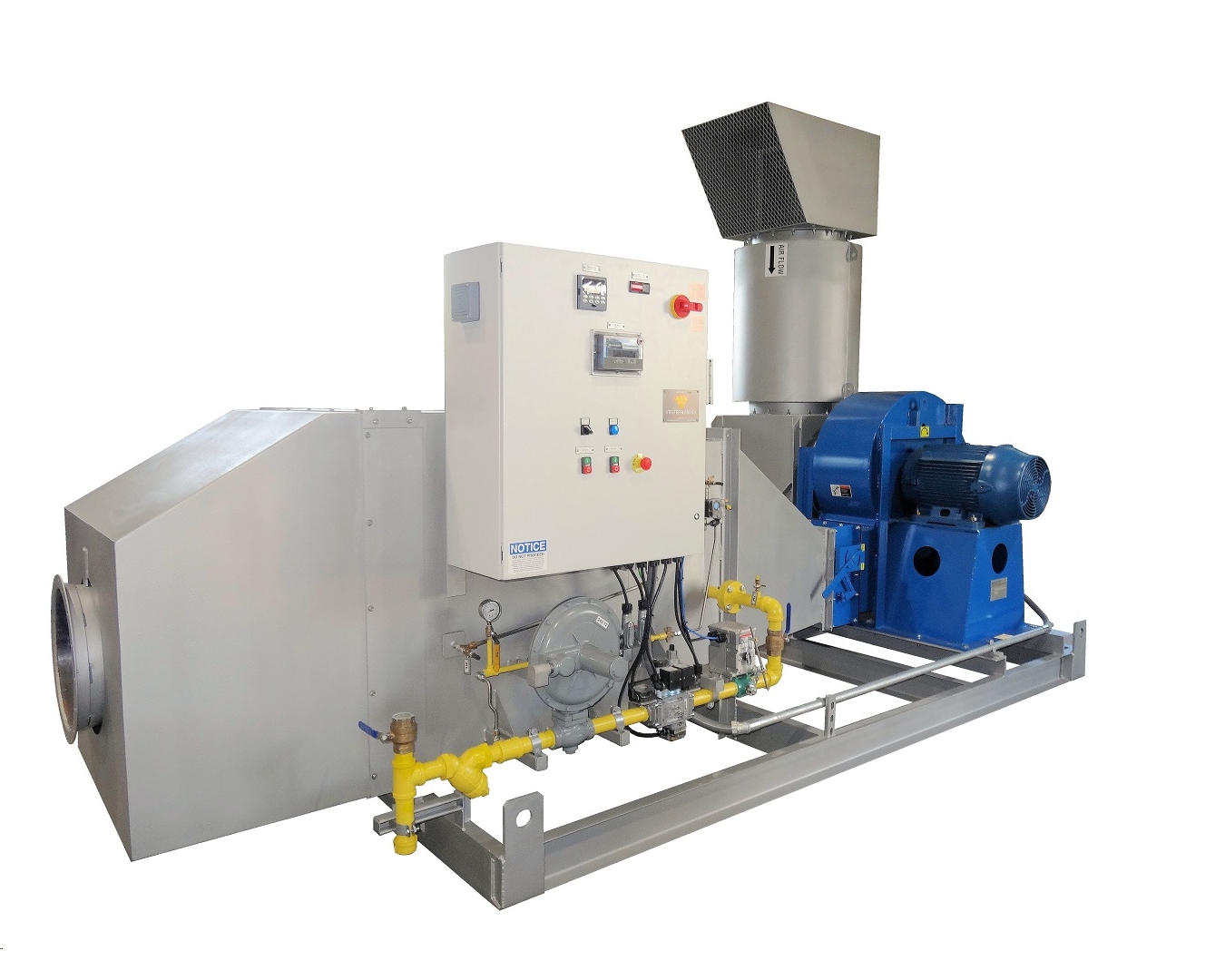 Direct Fired Packaged Air Heater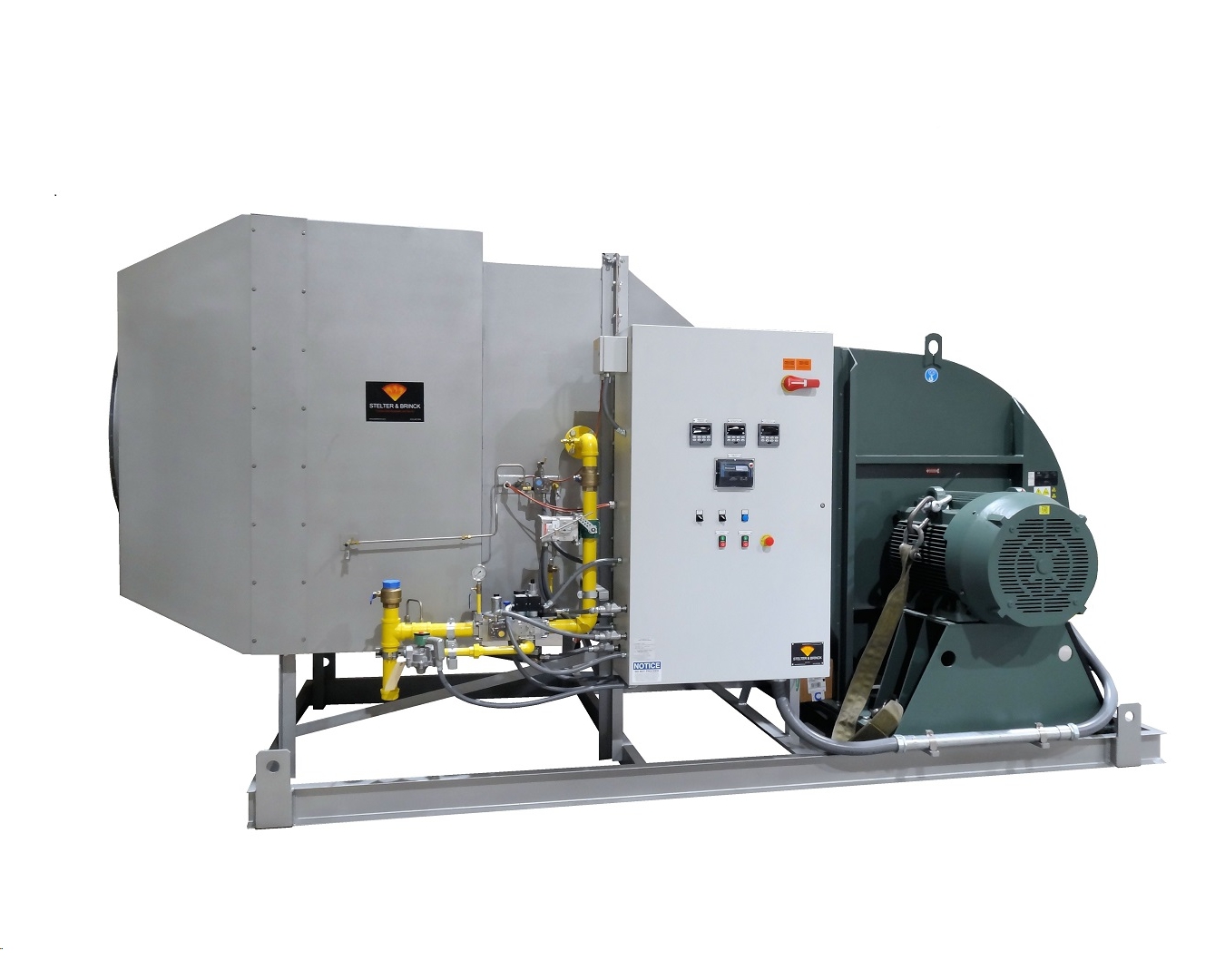 Air Heater with Burner and Blower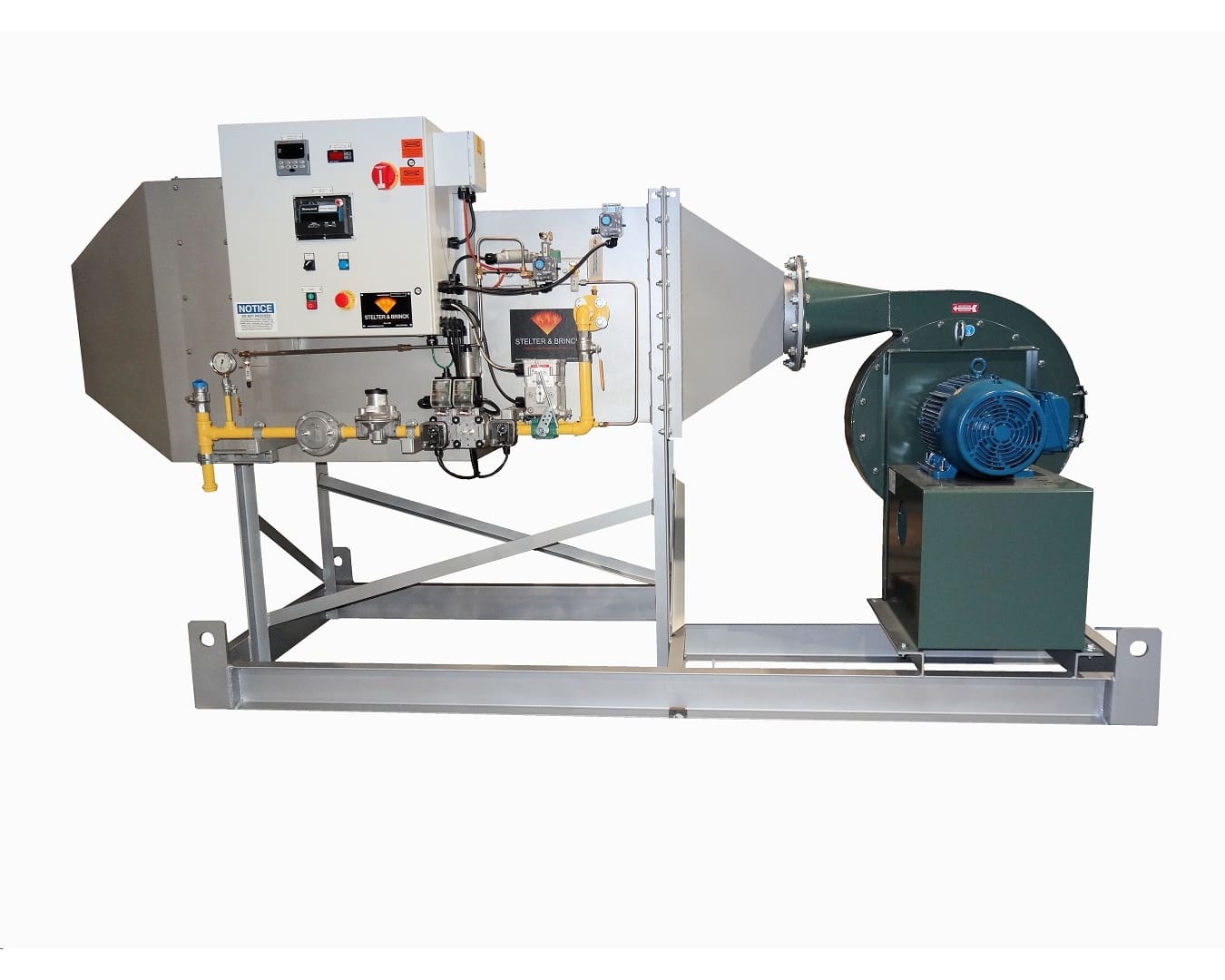 Packaged Process Air Heater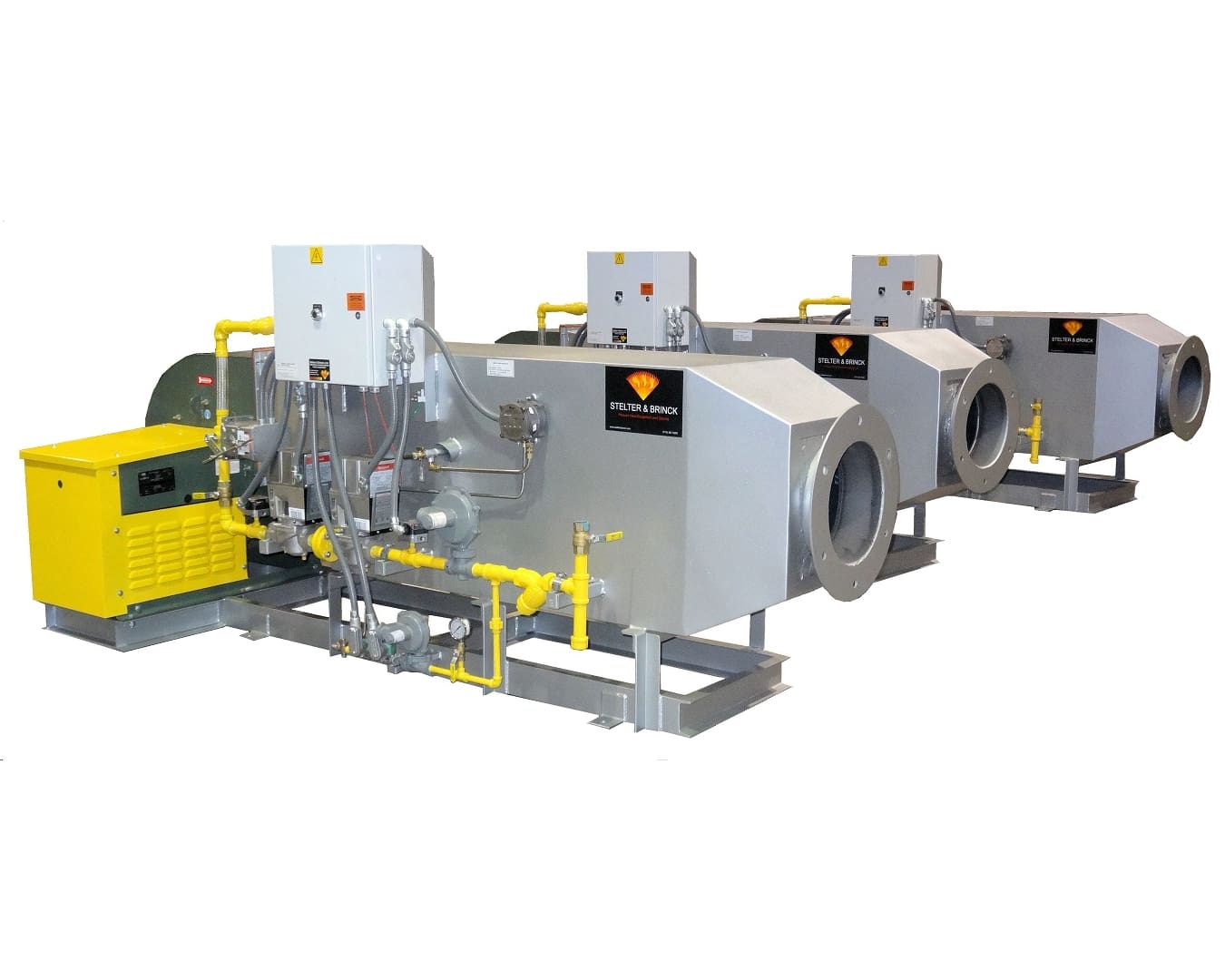 Direct Packaged Heaters for Paste Heating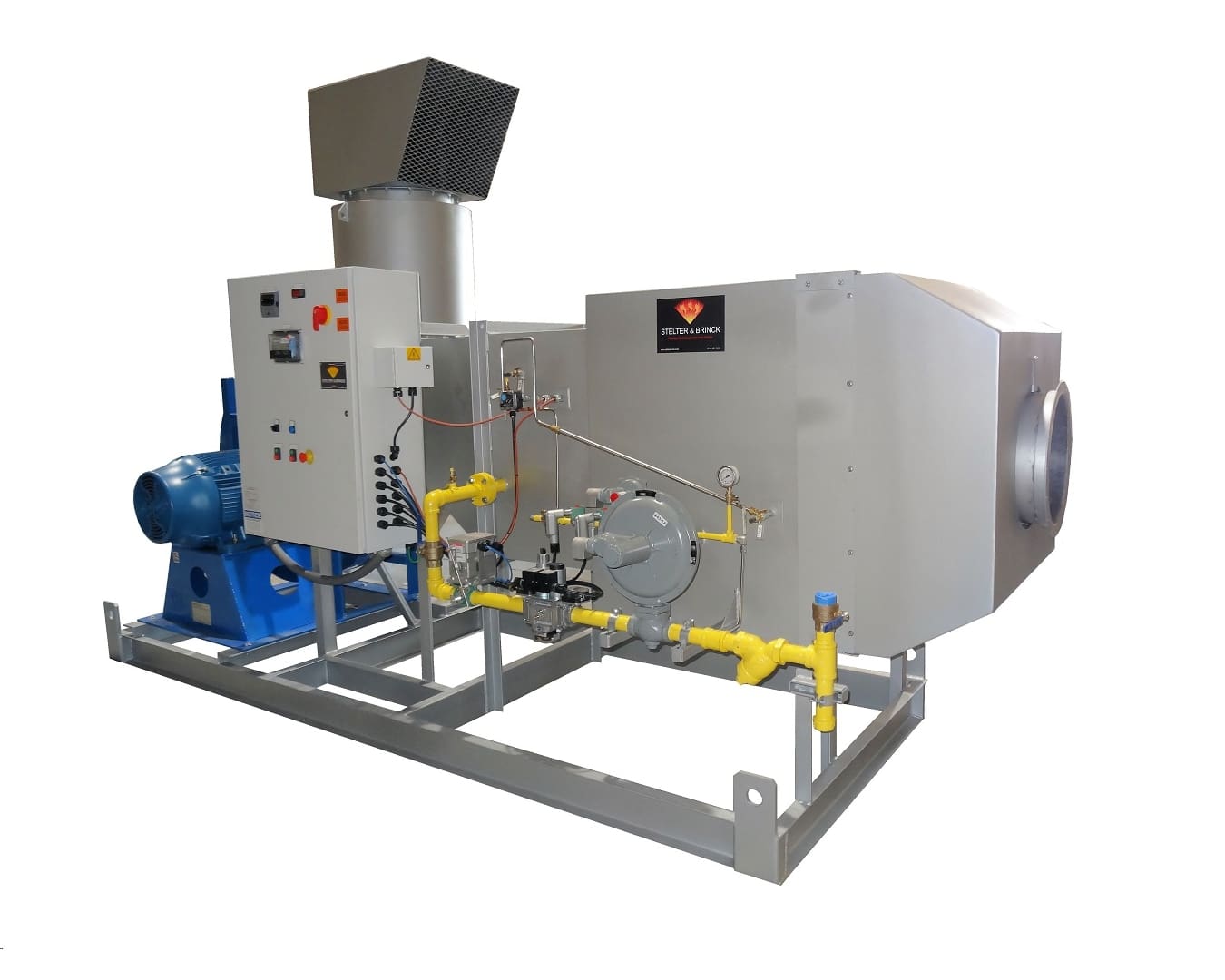 Industrial Heater- Packaged Unit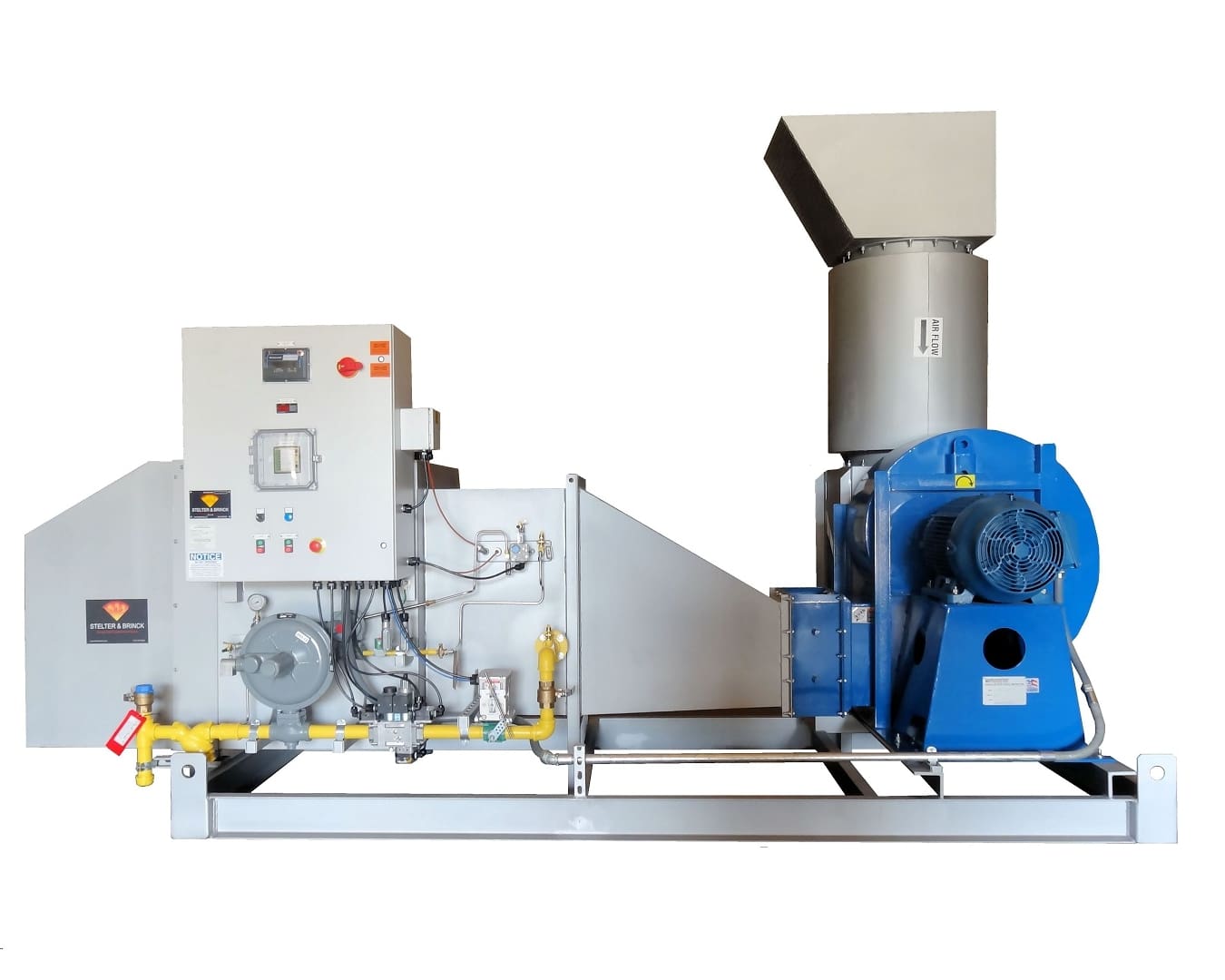 S&B's Direct-Fired PBB Unit
Packaged heaters are completely packaged with process blowers, air heat burners, and controls. These air heaters offer the utmost in customer convenience with total prewired and prepiped assembly including an insulated outlet transition with protective metallic skin.
Our packaged process air heaters are designed to be easy to use and install, among the features offered are:
Structural steel skid mounted assembly
Integral control panel with first out fault annunciator, PID digital temperature control (single or multi-loop), FM approved high temperature limit, flame safety relay, main power disconnect, control transformer, process blower motor starter, and operator indicator lights and push buttons. UL 508A priced per request
Optional remote control interface capability for use with PLC or DCS systems is available
Built to meet your requirement (FM, CE, NFPA, GAP, or CSA construction standards)
Insulated and skinned combustion chamber and outlet transition
Test fired and tuned prior to shipment
On-site start-up and on-going heater maintenance available
ADVANTAGES OF AN S&B PACKAGED HEATING SYSTEM:
Stelter & Brinck packaged heaters are designed to provide unmatched performance in direct fired air heating. These systems are designed to be flexible, with high energy turndown standard, and optional features that provide wide airflow turndown. Our packaged units are a product of more than 95 years of industrial combustion experience and feature:
High energy turndown
Optional inlet air filter assemblies
Optional inlet silencers
Optional stainless steel construction
High and low process air temperatures
PID digital temperature control
Fires on natural or propane gasses, other fuel options available on request
Designed for ease of maintenance
Low NOx emissions available
High turndown industrial gas burner
Heavy steel construction
Manual process air damper
Process blower
Convenient flame peepsight and pressure test taps with stainless steel I.D.
Stainless steel large diameter sensing tubing
Integrated, three phase control panel
Safety fuel valve train
Single point fuel connection