Gun Style Direct-Fired Air Heaters
Gun Style Air Heaters are ideal for those processes that require larger mass flows, higher temperatures, or fuel oil operation.
Application examples include: drying, annealing, curing, and heat treating.
The unit is available with a gas only, and oil only, or combination gas/oil burner. A low emissions option is available for each type of gun style heater.
Stelter & Brinck direct-fired gun style heaters are completely packaged with combustion blowers, burners, and controls. These industrial heaters offer the utmost in customer convenience with a totally prewired and prepiped assembly.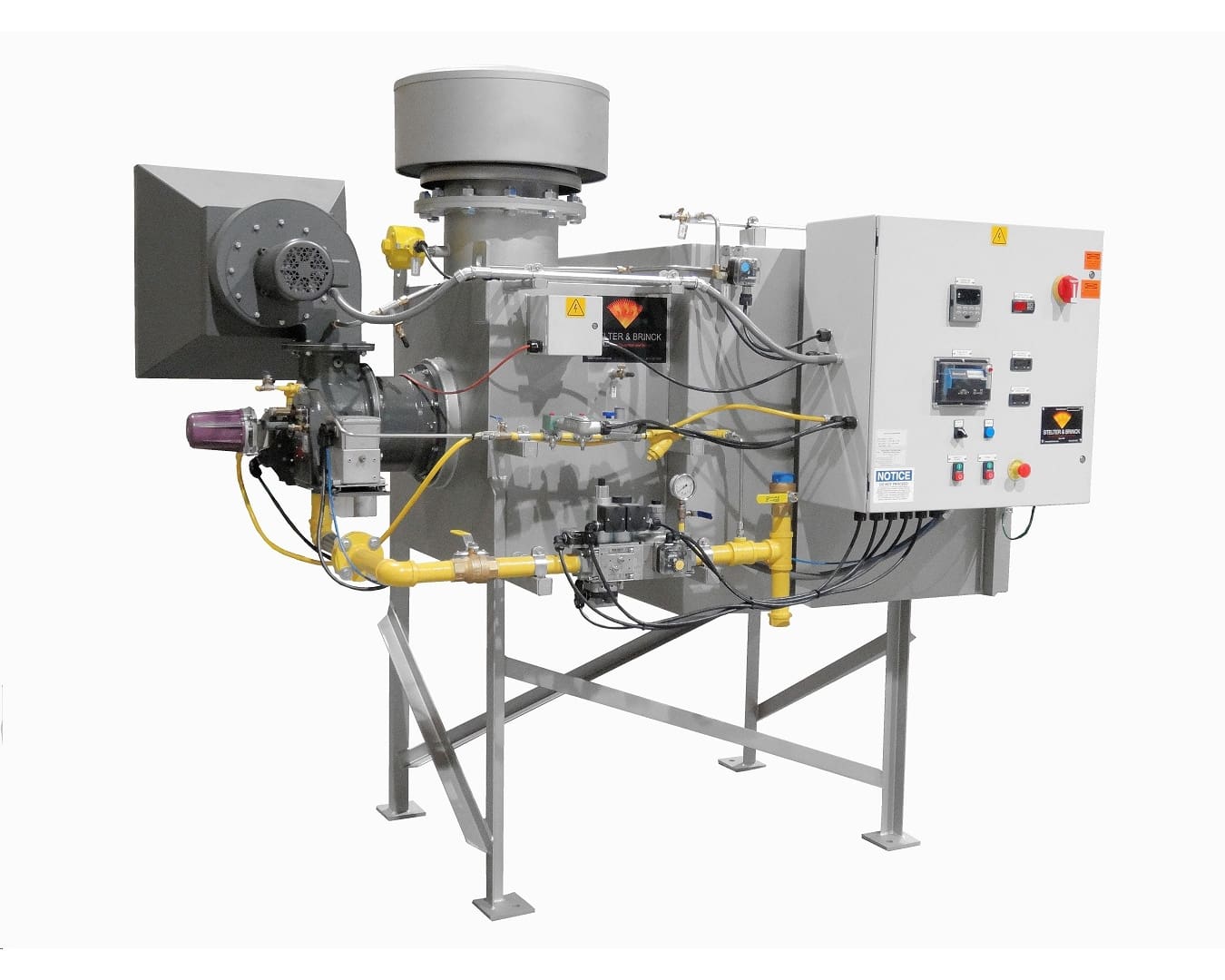 Gun-Style Gas-Fired-Process Heater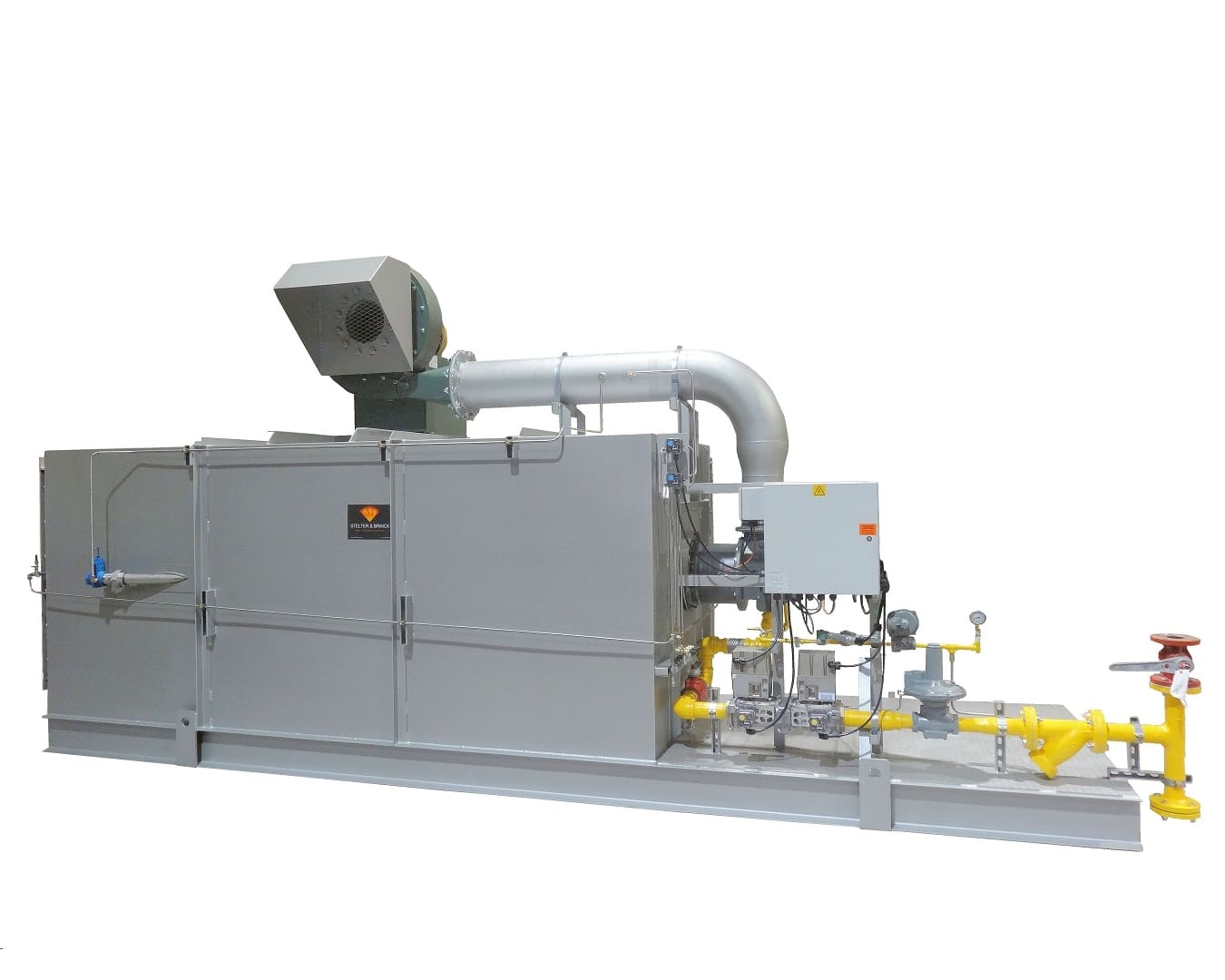 Gun-Style-Air-Heater-S&B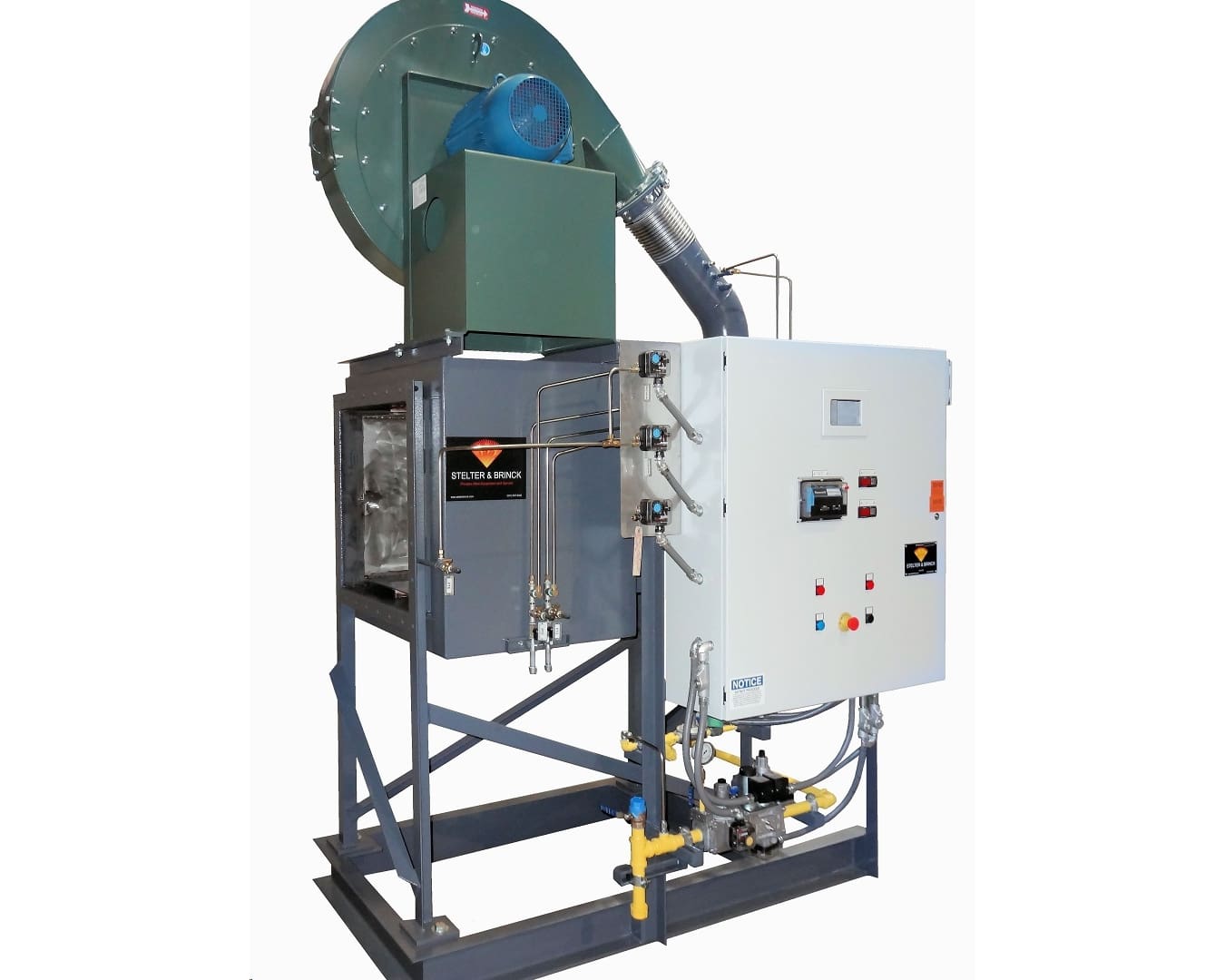 Recirculating Gun Style Air Heater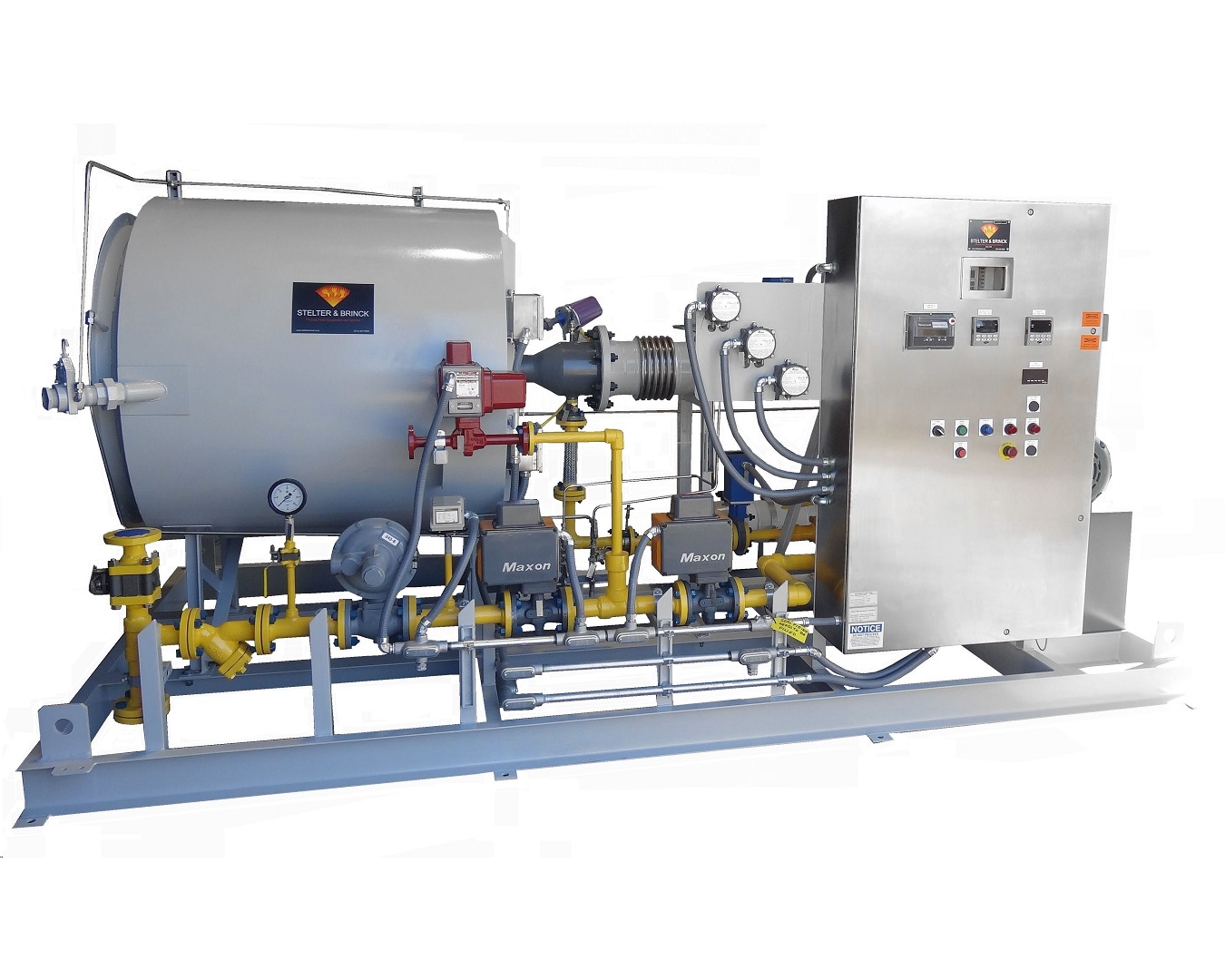 High Temperature Gun Style Air Heater with Stainless Panel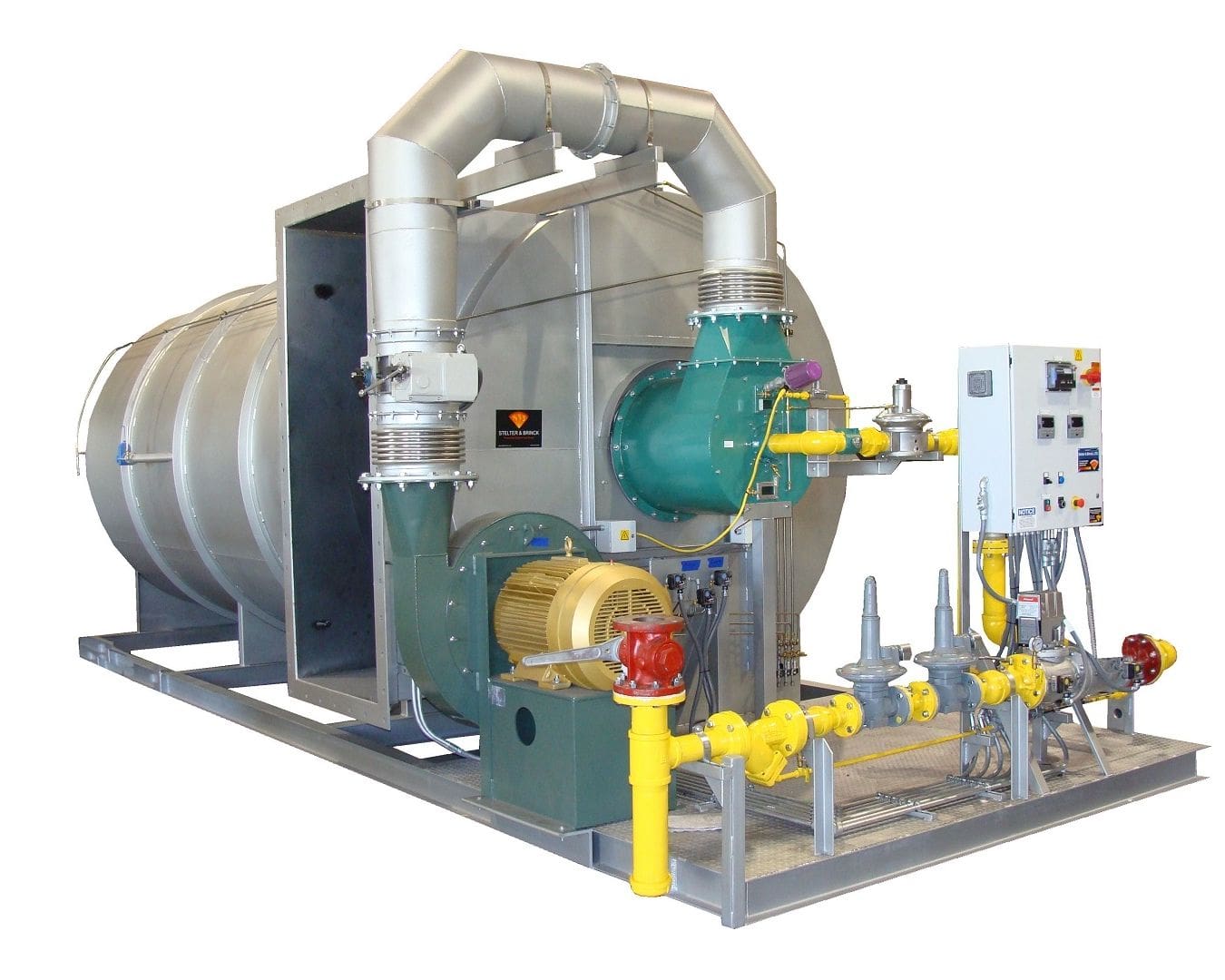 High Turndown Gun Style Unit.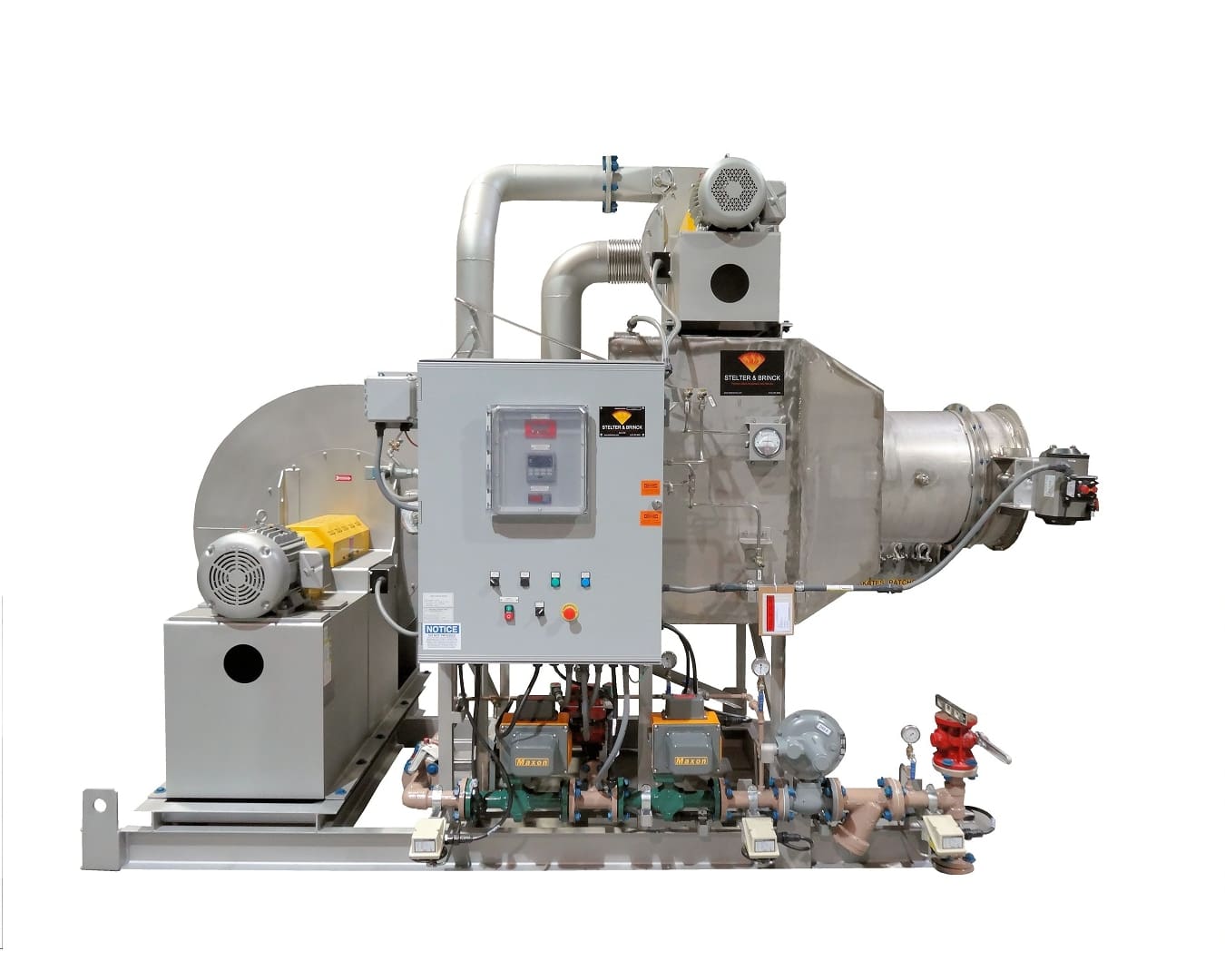 Stainless Steel Gun Style Air Heater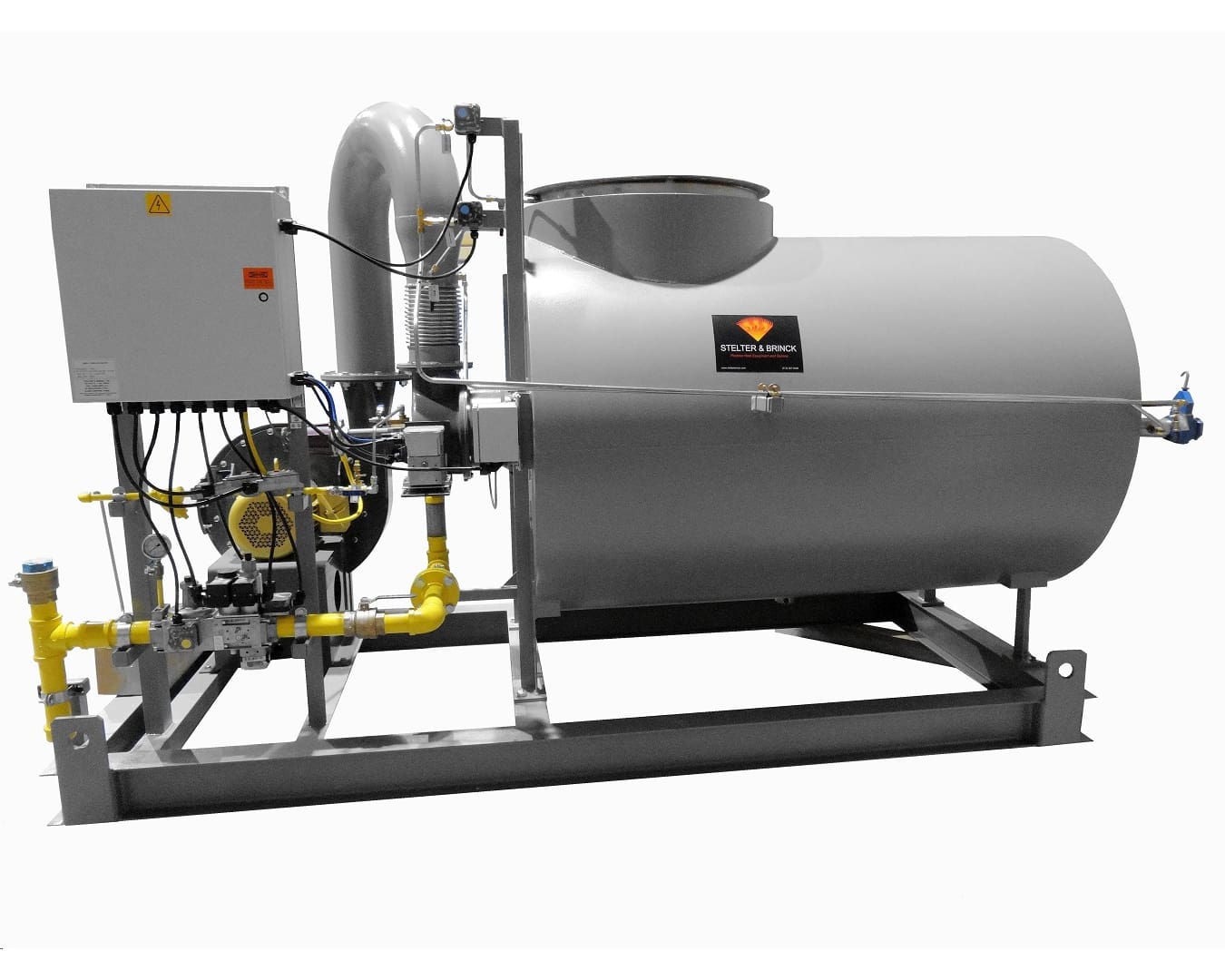 Natural-Gas-Fired-Direct-Heater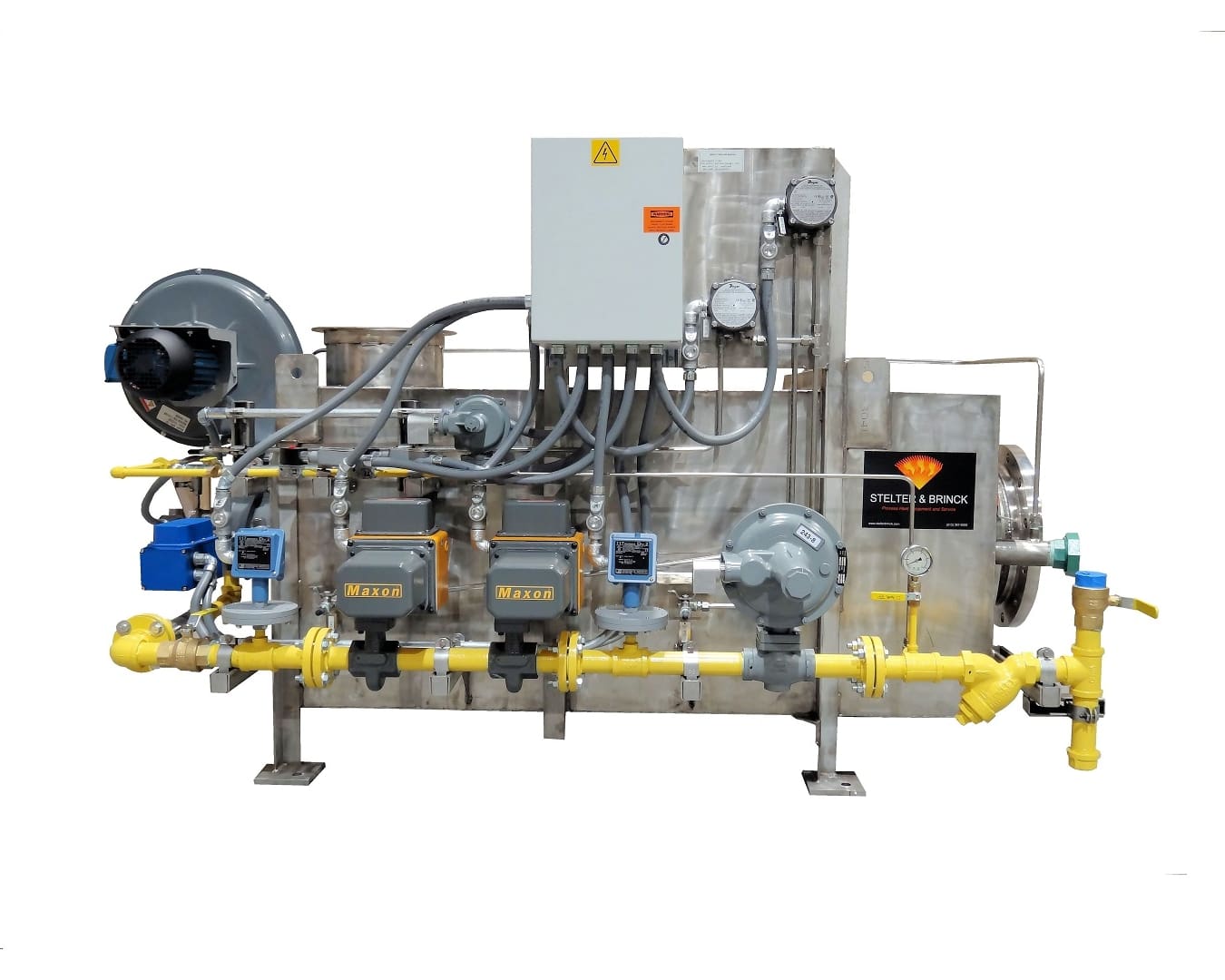 Gun-Style Air Heater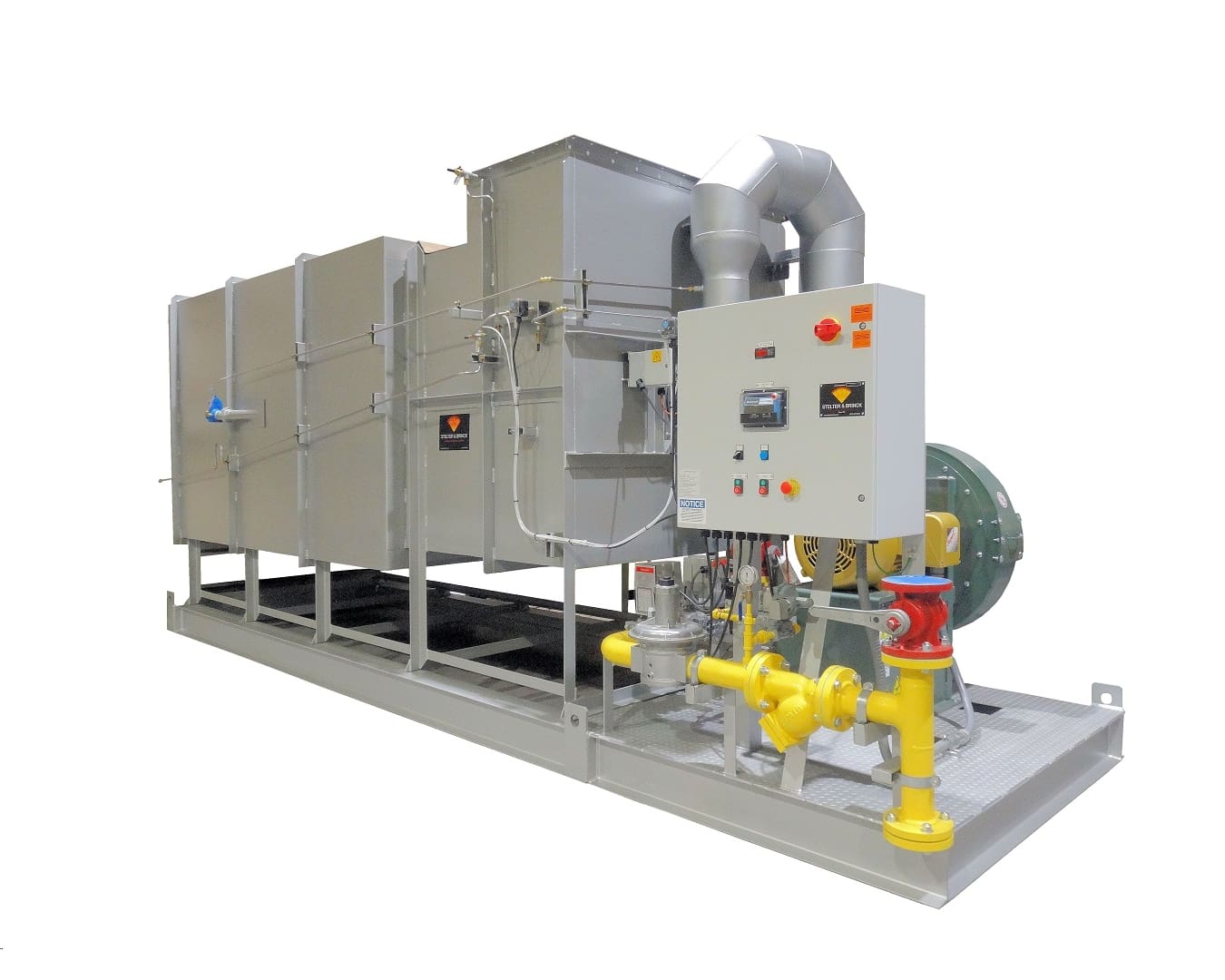 S&B-Gun-Style-Process-Heater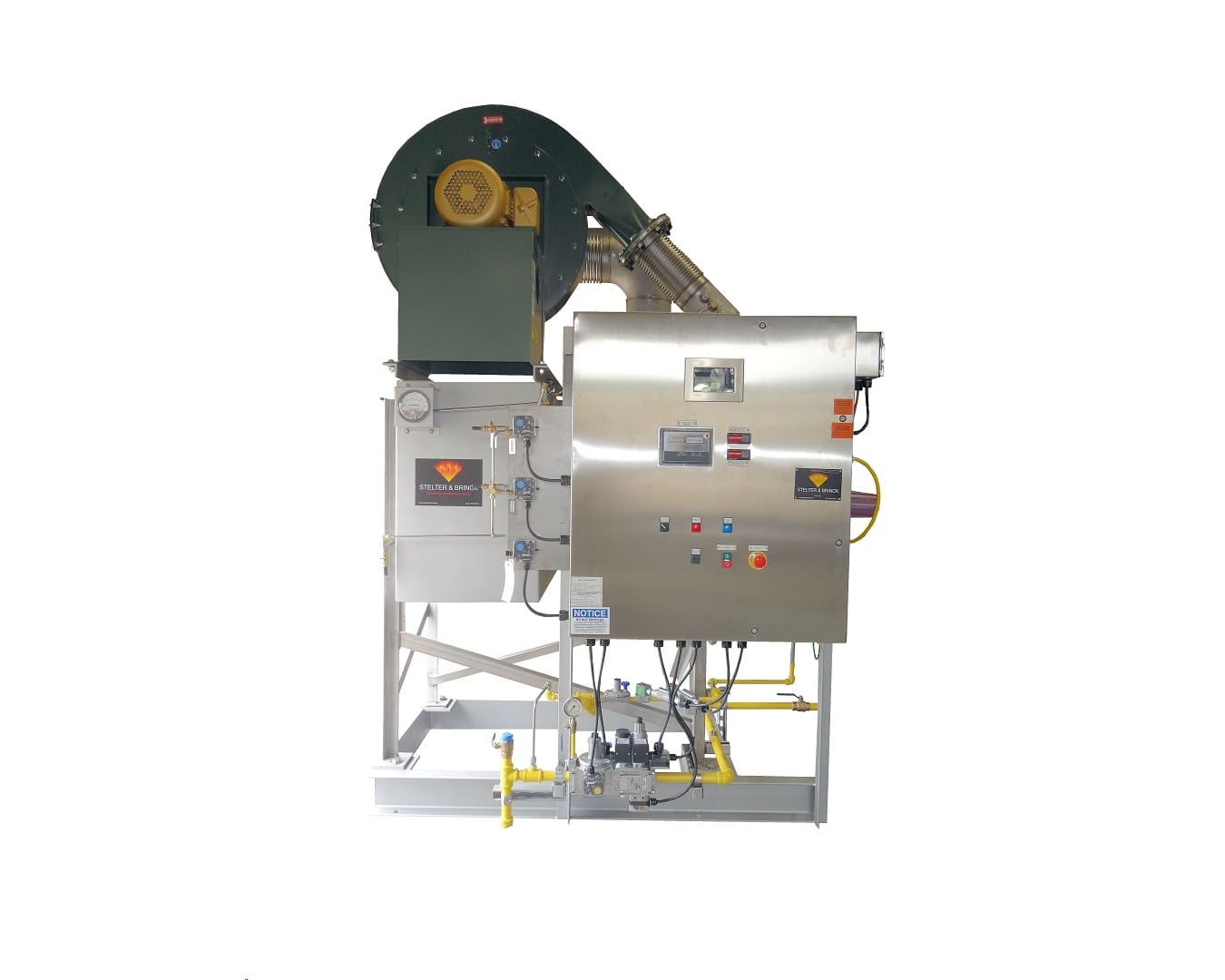 Recirculating Direct-Fired Unit with Stainless Steel Panel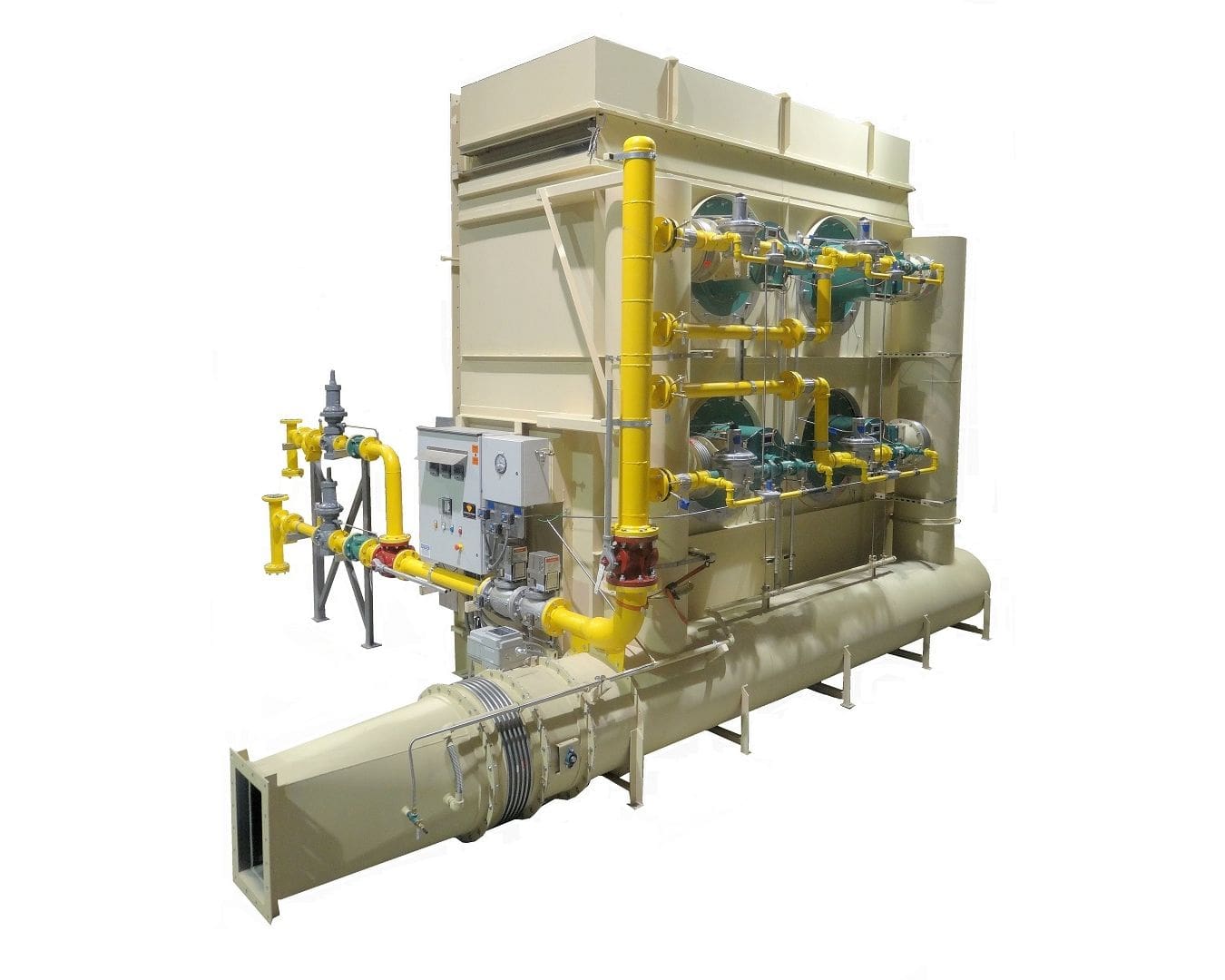 Low Emissions Gun-Style Direct Fired Air Heater.
Gun style process air heaters are designed to be easy to use and install, among the features offered are:
Structural steel skid mounted assembly
Integral control panel with annunciator, PID digital temperature control, FM approved high temperature limit, flame safety relay, main power disconnect, control transformer, and combustion blower motor starter. UL 508A priced per request.
Optional remote control interface capability for use with PLC or DCS systems available
Built to meet your FM, CE, CSA, NFPA or GAP construction standards
Insulated combustion chamber
Test fired and tuned prior to shipment On-site start-up available, as well as on-going heater maintenance
S&B'S SUPERIOR AIR HEATER PERFORMANCE
Stelter & Brinck gun style heaters are designed to provide unmatched performance in direct fired air heating. AHGS heaters are solidly built for years of great performance. Our gun style units are a product of more than 95 years of industrial combustion experience and feature:
Standard energy turndown of 30:1 on gaseous fuels
Process air temperatures of up to 2500°F
Fully proportional process air temperature control
Can be provided to fire on natural gas, propane gas, mixed fuel gasses, biogas/ digester gas and fuel oil
Designed for ease of maintenance
Rugged, durable construction
Unmatched quality
Suitable for particulate laden, high temperatures, and low oxygen content air streams