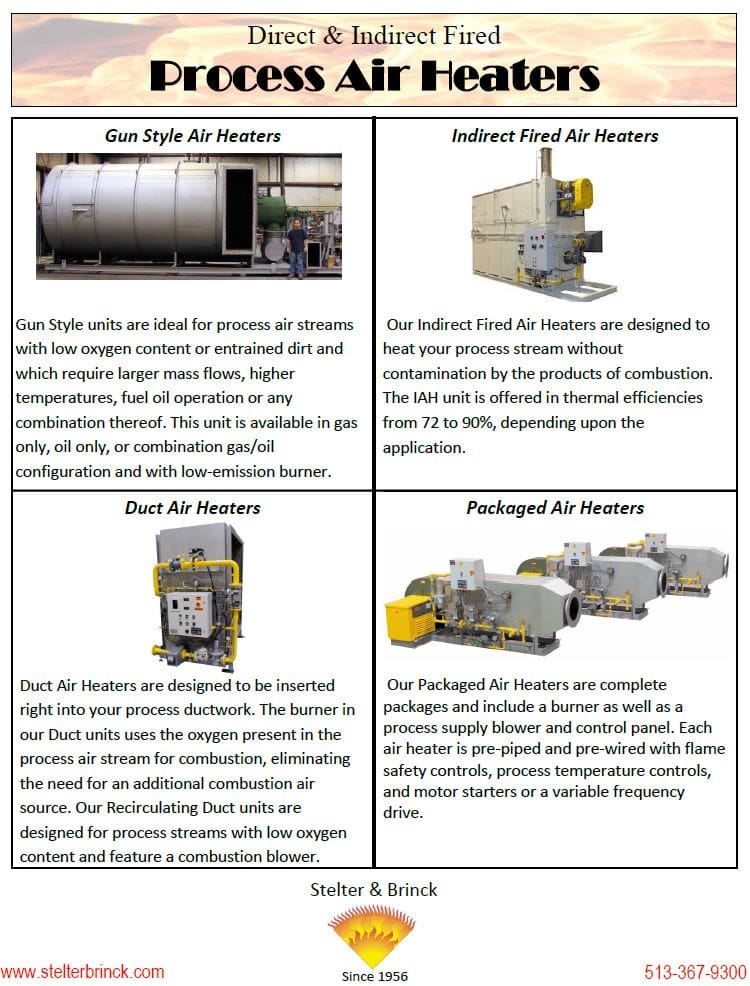 Are you in the market for an indirect or direct fired air heater? Before making the capital investment, it's important to take time to consider the following aspects of your process.
Application & Reaction to Heat
When beginning your search, you should first consider your application and answer the following:
What is the product that needs to be heated?
Is the material heat sensitive?
Does the heater need to be USDA compliant?
If the end material is food, pharmaceuticals, or anther chemically-sensitive products, an indirect fired air heater will be the best choice, as the by-products of combustion do not come into contact with the process air stream. Stelter & Brinck offers recirculating (can be built to USDA compliance standards), non-recirculating and straight-through indirect air heaters.
Do you need hot air for a product that is not sensitive to the by-products of combustion? Stelter & Brinck offers a variety of direct fired air heaters- packaged air heaters, gun style air heaters and duct style heaters.
Capacity & Production Area
It is imperative that the unit is correctly sized unit for your application. If the unit is under or oversized, production rates and possibly product quality will be compromised, at the very least. When sizing a process air heater, some of the questions you should consider are:
How many hours a week will this unit run?
What is your process air inlet temperature?
What is your process air outlet temperature?
What is your mass air flow?
What is the air pressure?
Where is the unit to be located?
Is the unit to be placed inside? Do you have enough space allocated to this unit? How high are your ceilings? Can your production area hold the weight of process air heater?
Is this unit going to be outside? Do you have an area that will support the heavy weight of a process air heating system? What is the location's elevation? What are your area's temperature lows and highs?
Different production conditions require different types of air heaters, as each has its strengths and weaknesses. As discussed above, indirect air heaters are ideal for heat sensitive products, whereas direct fired gun style air heaters are for use on dirty air flow processes. Stelter & Brinck is happy to discuss the positives and negatives of each type of industrial air heater with regard to your specific process.
Upfront and Operating Costs
Capital expenditure and the cost to operate the air heater should be considered before making your investment. Consider the following:
What is your budget?
What is your ROI goal?
What upgrade options are your number one priority?
Are you looking for low emissions options? Recirculating options?
What type of fuel will be used?
If your end product isn't chemically sensitive, direct fired air heaters are typically less expensive and more efficient than indirect fired air heating systems.
Each heater model, direct & indirect fired, has options that may cost more upfront, but that may be more efficient and thus, save your company money throughout the life of the equipment.
Setting your budget and figuring out your ROI goal will help narrow down some of the heater options.
When considering fuel options, long term future price predictions should be taken into account, not just current utility pricing.
Once you answer these questions, contact Stelter & Brinck to help you decide which model of air heater would be best for your needs.