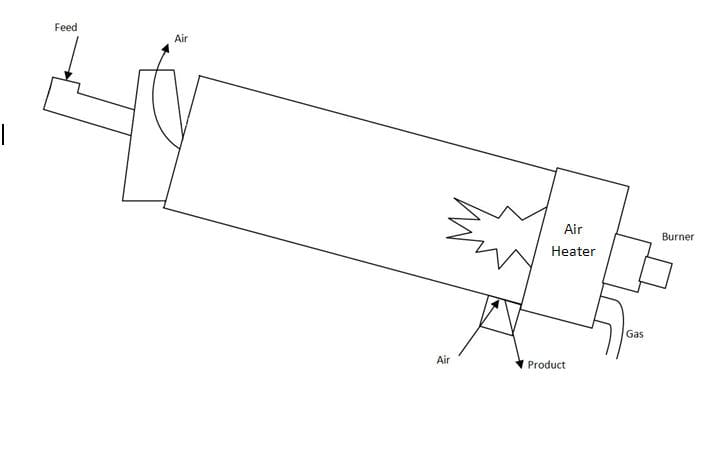 While there are many types of dryers used in industry today, there are 4 main systems that implement indirect fired air heaters or direct fired process air heaters. These dryers include: rotary dryers, pneumatic/flash dryers, spray dryers, and fluidized bed dryers.
Rotary Dryers
In this blog post, we are going to focus on Rotary dryers. Rotary Dryers are not only the oldest type of industrial dryer, but they are also the most common. According to Wikipedia, Rotary dryers are used to "reduce or minimize the liquid moisture content of the material it is handling by bringing it into direct contact with a heated gas." As you can see from the diagram below a rotary dryer consists of slowed rotating cylindrical tube. The feed end of the dryer is higher than the discharge end in order to convey the product through the dryer using gravity.
Wikipedia explains that as the "Material to be dried enters the dryer, and as the dryer rotates, the material is lifted up by a series of internal fins lining the inner wall of the dryer. When the material gets high enough to roll back off the fins, it falls back down to the bottom of the dryer, passing through the hot gas stream as it falls."
The hot gas stream is provided by an air heater. The nature of the wet material to be dried determines whether a direct fired air heater or indirect fired air heater is used as the in conjunction with the dryer.
If the material is not chemically sensitive, a direct air heater is used and the dryer is consequently deemed a "direct rotary dryer". Some examples of products that are directly fired include: sugar beet pulp, calcium carbonate, sands, wood chips, blast furnace slag, zinc and lead concentrates. If the burner combustion gases will alter the end product, an indirect air heater is used and the dryer is referred to as an "indirect rotary dryer". A couple applications that use indirect rotary dryers include: cereals, coffee beans, food grains, and tea leaves.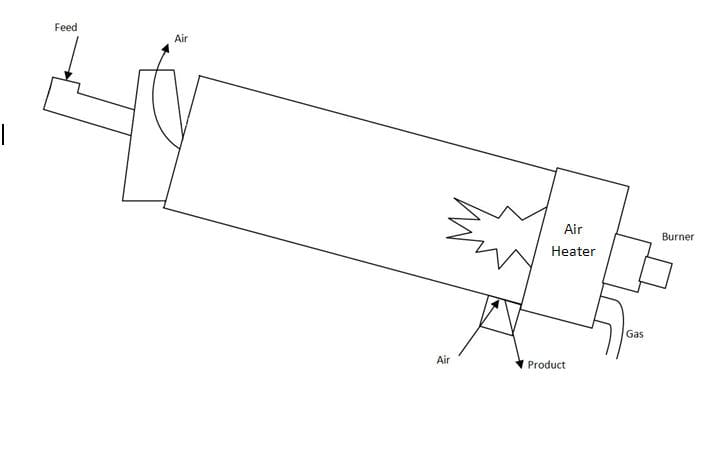 Regardless of how the air is heated- directly or indirectly- Stelter & Brinck is pleased to provide you with a direct or indirect fired air heater that will fulfill your application needs and exceed your operating expectations. For more information regarding our process air heaters, feel free to contact us!