Are there pollutants present in your process airstream? Stelter & Brinck designs and manufactures industrial air pollution control systems to destroy the HAPs, VOCs, fumes, or odors generated during manufacturing. In addition, we also provide services to keep your system well-maintained, and up to codes and standards.
We manufacture the following air pollution solutions:
Thermal Recuperative Oxidizers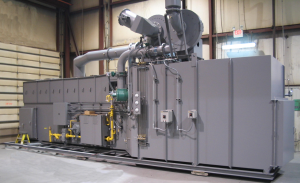 Afterburners (Direct Fired Thermal Oxidizers, Enclosed Flare or Vapor Combustor)
Our oxidizer services consist of:
General Services
Burner tuning for efficiency
NFPA & insurance safety checks
Burner operation reliability
Burner & pilot inspection
Troubleshooting
Preventative Maintenance & Service Contracts
Rebuilds/ Upgrades/ Retrofitting
Spare Parts
Our air quality control systems are a product of over 55 years of experience in the combustion industry. They are designed to provide unmatched performance in your application and to "plug and play" for the end user. Check out what our customers have to say regarding our oxidization systems:
"Since installation, S&B's oxidizer has continually destroyed 99.9% of our VOC emissions."
– John Leach, GoodYear (Veyance Technologies)
"Stelter & Brinck's oxidizer has kept us within code and has eliminated the possibility of any emissions fines!"
-Larry McCammon, KIPT
"With the help of S&B's thermal oxidizer, we won an Environmental Leadership award due to our reduction of harmful emissions!"
– John Leach, GoodYear (Veyance Technologies)
For more information on our industrial pollution control systems and services, visit our website or call us at 513-367-9300!