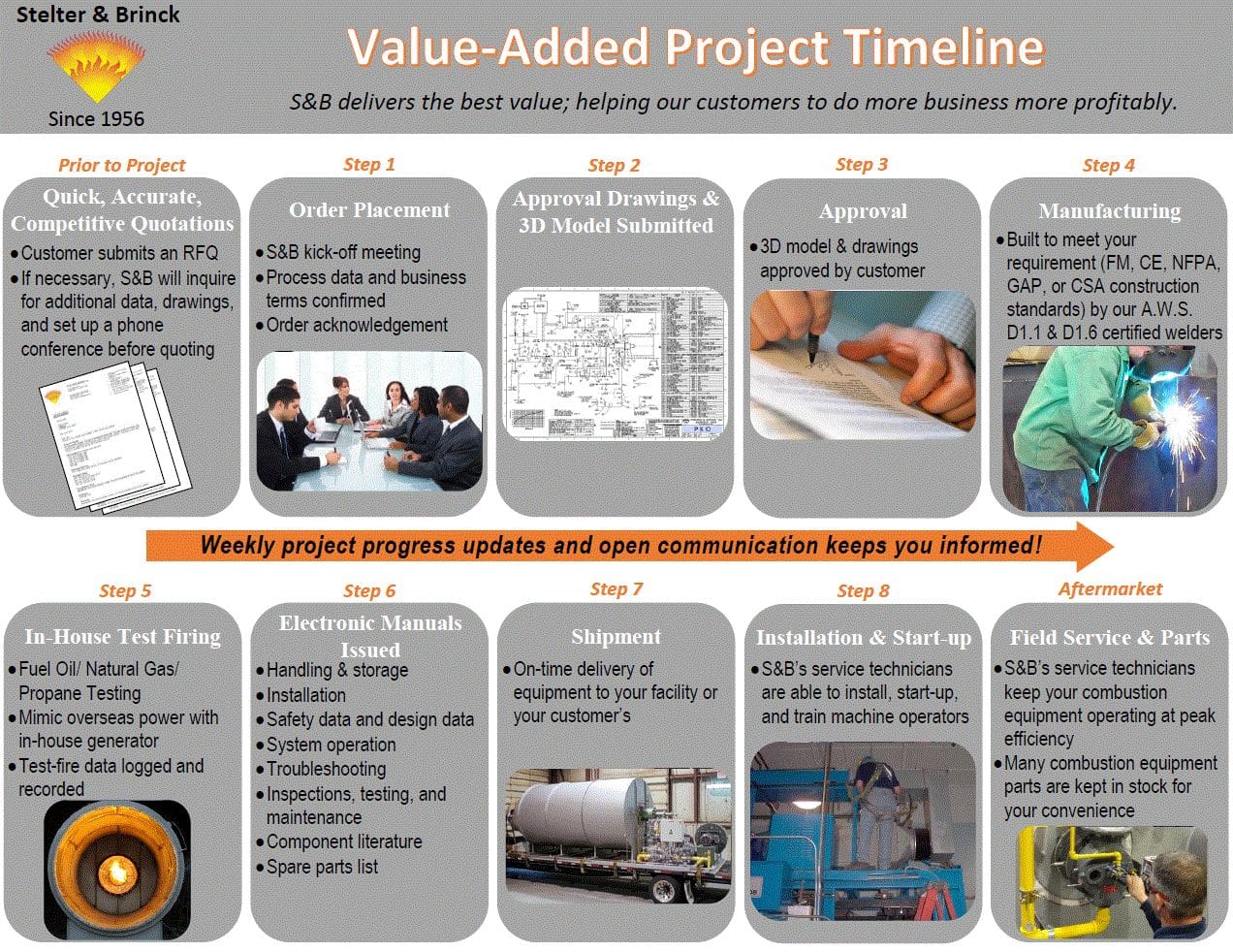 Purchasing equipment isn't a simple decision. There are many factors to take into consideration: What is the OEM's history in the market and what applications have they worked with? Will their equipment be built correctly? Will their equipment arrive on-time? What are their terms & conditions? Are they a good partner? What value do they bring to the project? Are they responsive, open and honest? Do they provide aftermarket support? … and the list goes on!
Choosing the correct process heat equipment supplier can be difficult. In order to make the purchasing a little easier, Stelter & Brinck has created the following simple 8 Step Project Timeline. This timeline gives potential customers an idea of what to expect when working in conjunction with S&B.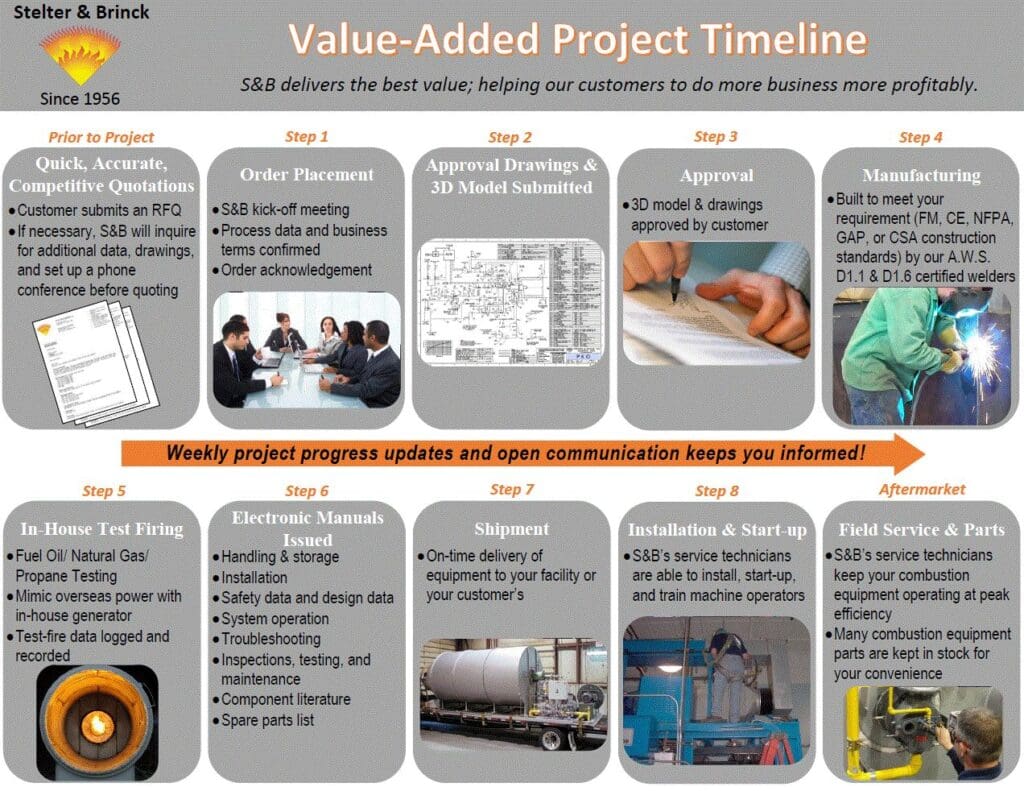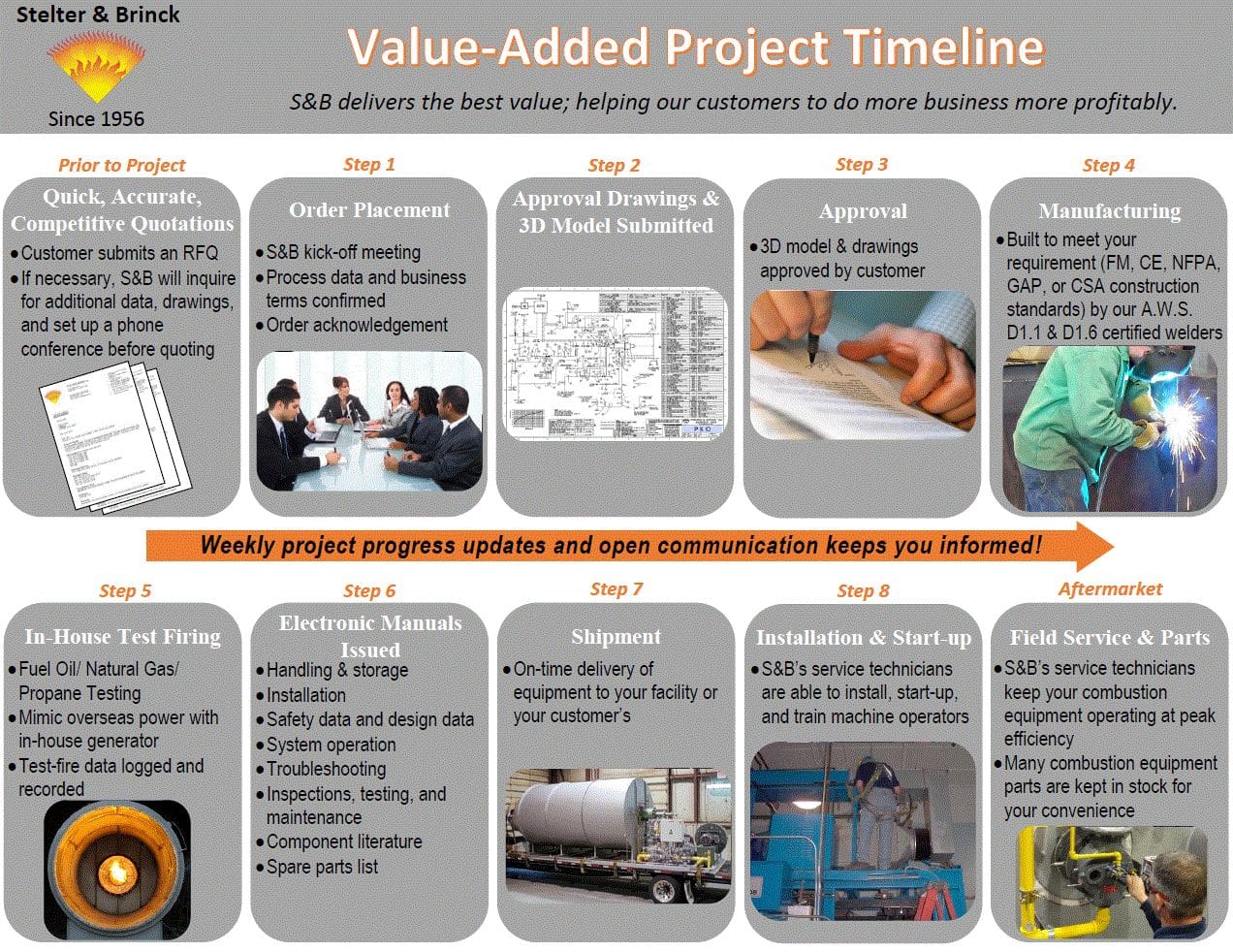 Prior to the project's commencement, Stelter & Brinck will respond to the customer's RFQ with quick, accurate and competitive quotes.
Step 1: After customer places order, business terms are confirmed and process data is finalized.
Step 2: S&B in-house engineering department provides 3-D models & AutoCad drawings for approval.
Step 3: The customer approves S&B's equipment design.
Step 4: Once approved, our manufacturing shop begins building the equipment to meet your requirements (FM, CE, NFPA, GAP or CSA construction).
Step 5: Equipment is test-fired in-house (S&B's capabilities: fuel oil/ natural gas/ propane testing, mimic overseas power with in-house generator). The test-fire data is logged and recorded.
Step 6: Detailed electronic instruction manual, which includes start-up/ shut-down procedures and a troubleshooting guide, is delivered to customer.
Step 7: Equipment is delivered to the end user.
Step 8: S&B's technicians are able to install, start-up and maintain your new equipment.
Our goal is to deliver the best value by helping our clients to do more business more profitably. Thus, Stelter & Brinck's job isn't complete when the equipment is successfully running in the field; we also offer aftermarket services, so our clients can focus on their core business and rely on us for all of their combustion needs! S&B offers combustion field service and equipment parts keep your combustion operating at peak efficiency after installation and start-up.
For more information about working with us or for questions, feel free to contact us!