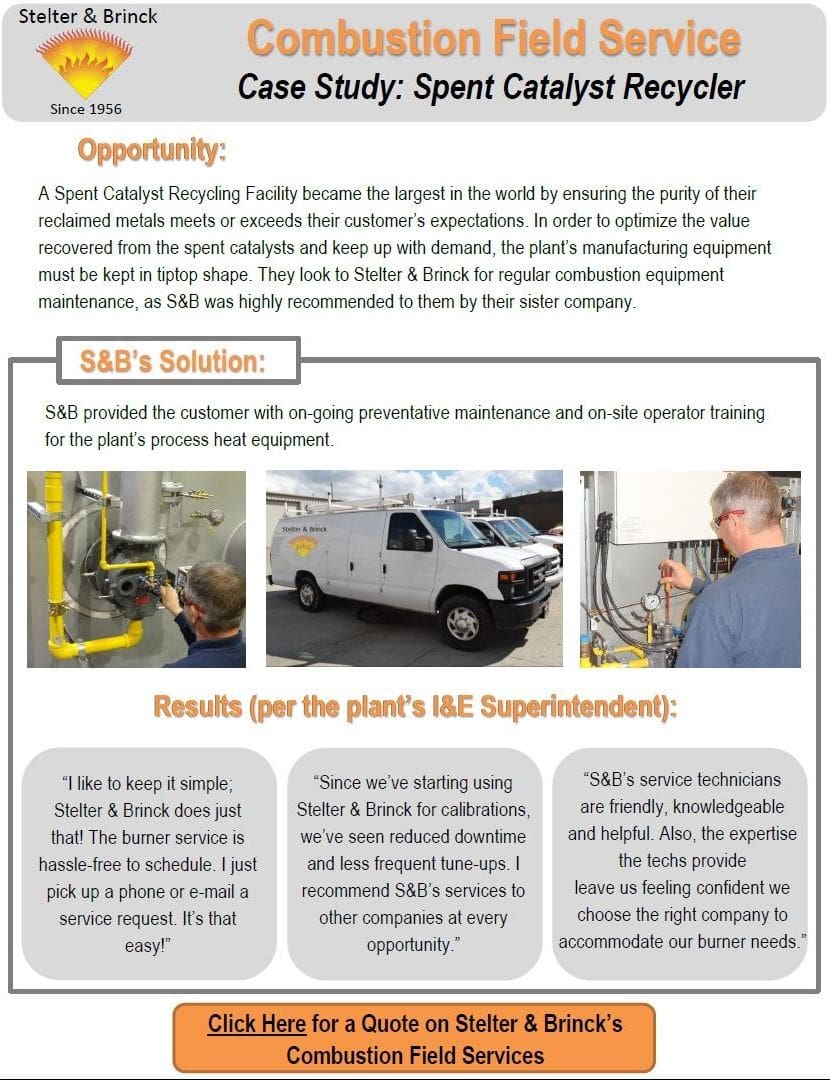 Today, people are "doing less with more" in the workplace. Companies are finding more effective ways to allocate resources. The main reason people are able to yield higher output is due to advancements in technology. Technology has given people the ability to have resources and information at their fingertips, anytime and anyplace. In turn, our expectations of response times is higher than ever before.
Quicker response time expectations means that there is now little room for error in the manufacturing industry; manufacturers need to find the perfect balance between supply and demand. Because the supply of finished goods is directly dependent upon production rate, manufacturing equipment must be working efficiency. It is important to take precautions in order to keep downtime to a minimum.
Scheduling routine preventative maintenance on your plant's combustion equipment can help your plant maximize uptime and efficiency. In addition, PMs performed on your burners and combustion systems can improve safety, reduce emissions and fuel costs and keep you up to codes and standards.
As previously stated, people in the workplace are expected to "do more with less"; employees have taken on more workload than ever before and thus, are extremely busy. Combustion system preventative maintenance can easily get overlooked, especially if the equipment is up and running. However, skipping PMs can result in a slew of issues that could have been uncovered at the time of the scheduled maintenance check (see our blog for more: https://stelterbrinck.com/blog/downtime-costs-in-the-manufacturing-industry/). In order to help keep downtime to a minimum, we would recommend hiring a company, such as Stelter & Brinck, that offers burner services.
As an original manufacturer of combustion equipment, Stelter & Brinck knows combustion systems. S&B's PM program is called "Scheduled Burner Maintenance Program", which includes: burner tuning for efficiency, NFPA and insurance safety checks, system leak tests, burner operation reliability, and burner and pilot inspection. With this program, Stelter & Brinck will provide you with in-depth technical report. S&B's service reports cover very detailed information on each piece of your equipment, helping to spot trends in your process performance and suggest upgrades where necessary. Stelter & Brinck can even schedule around your routine shut-downs, and offer combustion equipment parts, training and field rebuilds, and upgrades and retrofittings.
The benefits of using Stelter & Brinck's highly skilled field service crew are below:
Backed by in-house engineering department
Regular safety training
Current on NFPA standards
Trained in controls, wiring & PLCs
Experience with all types of combustion equipment
Service on any shift for the same cost
Logging of process variables (allowing us to spot equipment trends)
Provide in-depth technical report following visit
Vans are stocked with equipment parts.
For more information about combustion burner services, please visit https://stelterbrinck.com/combustion-burner-field-services.htm