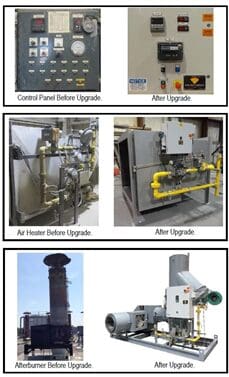 Is your combustion equipment reliable? Backed by our engineering department, our team of experienced field technicians can bring your equipment up to today's standards and codes through rebuilds, retrofitting, repairs or upgrades.
Examples of equipment upgrades or repairs Stelter & Brinck can help you with:
Process Heat Equipment Replacements/ Repairs
Oxidizer or Afterburner Replacements/ Repairs
Heat Exchanger Replacements/ Repairs
Energy Audits- implementing heat recovery, new control systems, oil fired or electric to natural gas fired burner conversions
Complete Burner Systems or Burner Controls Upgrade
Refractory Replacement and Repair
NFPA Safety Upgrades
Combustion System Parts Upgrades
Piping and Duct Work Fabrication/ Welding
Benefits of Using S&B for your Combustion System Alterations:
We have almost 100 years serving the process heat industry!
We have thousands of units world-wide.
We work with fortune 100 companies, as well as mom-and-pop shops.
Our service technicians are backed by our in-house engineering department.
We also offer equipment installation, start-up, on-going preventative maintenance.
Pictures: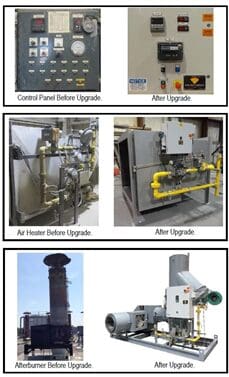 For more information or to upgrade/ repair your system, call 513-367-9300 or visit: www.stelterbrinck.com