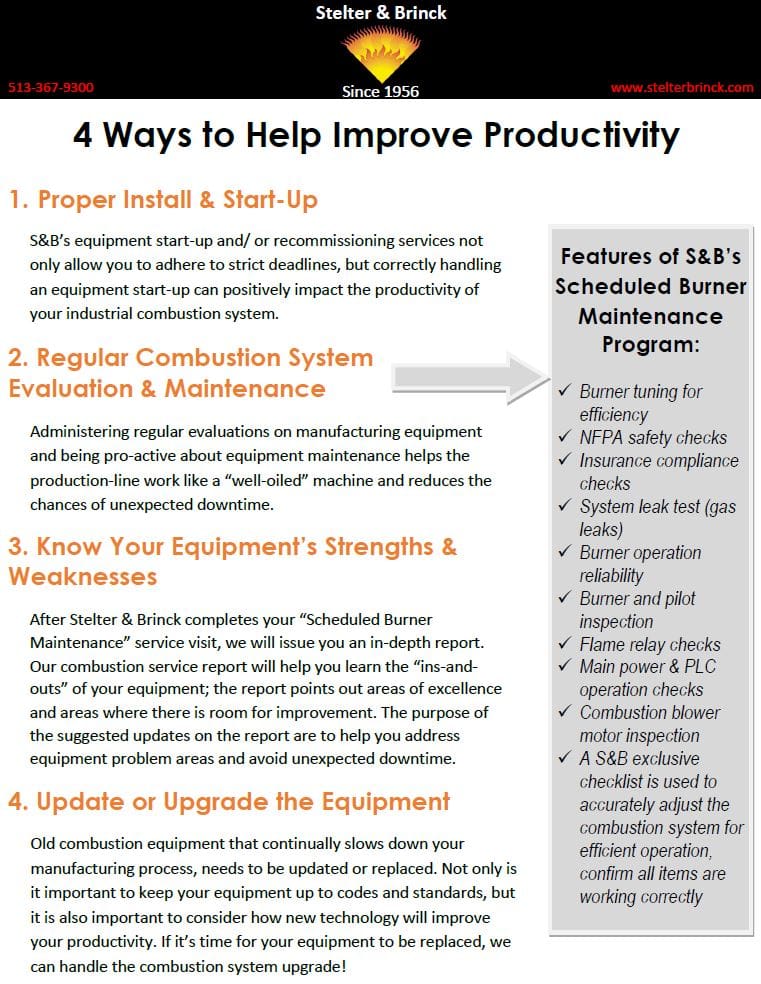 Below are 4 ways that Stelter & Brinck can help to improve the productivity of your combustion equipment.
Stelter & Brinck's equipment start-up & recommissioning services not only allow you to adhere to strict deadlines, but correctly handling an equipment start-up can positively impact the productivity of your industrial combustion system.
Administering regular evaluations on manufacturing equipment and being pro-active about equipment maintenance helps the product-line work like a "well-oiled" machine and reduces the chances of unexpected downtime.
S&B's Scheduled Burner Maintenance Program:
Burner tuning for efficiency
NFPA safety checks
Insurance compliance checks
System leak test (gas leaks)
Burner operation reliability
Burner and pilot inspection
Flame relay checks
Main power & PLC operation checks
Combustion blower motor inspection
A S&B exclusive checklist is used to accurately adjust the combustion system for efficient operation, confirm all items are working correctly
Know your Equipment's Strengths & Weaknesses
After Stelter & Brinck completes your "Scheduled Burner Maintenance" service visit, we will issue you an in-depth report. Our combustion service report will help you learn the "ins-and-outs" of your equipment; the report points out areas of excellence and areas where there is room for improvement. The purpose of the suggested updates on the report are to help you address equipment problem areas and avoid unexpected downtime.
Old combustion equipment that continually slows down your manufacturing process, needs to be updated or replaced. Not only is it important to keep your equipment up to codes and standards, but it is also important to consider how new technology will improve your productivity. If it's time for your equipment to be replaced, we can handle the combustion system upgrade!