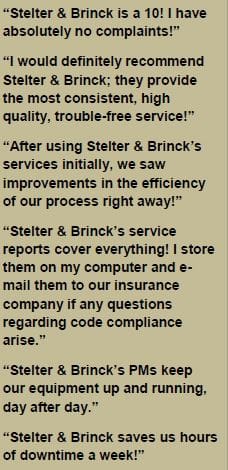 Situation:
Composite wood is manufactured by combining particles of wood together with plastic. Since its introduction into the outdoor living market in the 1990's, composite has become a popular alternative to traditional wood decking and railing. Not only is composite easy to install and maintenance-free, but it doesn't rot, warp, fade, weather or splinter. In addition, composite comes in many colors, surfaces and board options to meet each user's living space needs.
The leading manufacturer of composite boards and railing recognized that in order to stay "on-top" they must prevent unnecessary shut-downs.
Solution:
The Facilities Manager relies on Stelter & Brinck's Combustion Field Services to be certain their facility is taking necessary safety measures. This plant is signed up for the Scheduled Burner Maintenance Program- which is a reoccurring Preventative Maintenance Program scheduled around the plant's production needs.
Results:
According to the Facilities Manager, "Stelter & Brinck helps us comply with codes, which saves insurance money!" But safety, code compliance and insurance savings aren't the only reasons for using Stelter & Brinck's services- he states, "Stelter & Brinck's reports cover everything! I store them on my computer and e-mail them to our insurance company if any questions regarding code compliance arise!"
The Facilities Manager believes that "Stelter & Brinck provides outstanding service, which is second to none! They are a 10! They provide the most consistent, high-quality, trouble-free services!" He goes on to explain, "Stelter & Brinck's PMs keep our equipment up and running, day after day- they save us hours of downtime a week- which enables us to keep our delivery time to a minimum."