Thermal Oxidizer Overview
Harmful pollutants called VOCs, or volatile organic compounds, are generated when manufacturing certain products, such as: cement, ceramics, glass, detergents, alcohol, fertilizers, pharmaceuticals, polymers, resins, and many more.
Manufacturing facilities install thermal oxidizers to destroy VOCs in their process air stream before exhausting to atmosphere. The VOC latent airstream is heated to a high temperature for a predetermined dwell time, where the VOCs are converted to Carbon Dioxide and water vapor via an exothermic reaction. The treated airstream is now considered to be clean and can be exhausted to atmosphere. Thermal oxidizers can include a heat recovery heat exchanger, and even secondary and tertiary heat exchangers to preheat other parts of the manufacturer's process.
Features and Benefits of S&B Thermal Oxidizers:
These units can feature remote control interface capability for use with PLC or DCS systems, and are built standard with the latest in flame safety technology. Stelter & Brinck can also price a UL 508A panel per your request.
Our thermal oxidizers stand-out amongst the competition for the following reasons:
Custom designed & manufactured in-house to your fit your needs
EPA destruction efficiency compliance guaranteed
Fully packaged and ready to install
Options for high efficiency shell and tube heat exchangers manufactured by S&B
Heavy-duty construction
Controls to match your process needs.
Convenient flame peep sight and pressure test taps with stainless steel I.D.
Rigorously tested & tuned before shipment
Easy maintenance; easy access to valve train & control panel
Subjected to S&B's exclusive QC and test-firing program before shipment
Stelter & Brinck's combustion field service crew can start-up and maintain your thermal oxidizer
Stelter & Brinck Thermal Oxidizer Models and Pictures:
Thermal Fume Oxidizer with Heat Recovery (TFO-HX).Thermal Oxidizer for Hard Drive Manufacturer
2.Thermal Fume Oxidizer without Heat Recovery (TFO). These pollution control system take advantage of the high-efficiency contribution of concentrated air streams.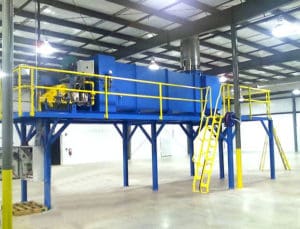 3. Direct Fired Thermal Oxidizer (Afterburner)- for use when very high concentrations of VOCs, odors, or opacity (smoke) are present in the process air.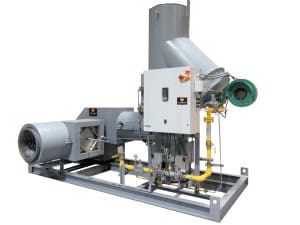 Video Featuring Stelter & Brinck's Thermal Oxidizers: