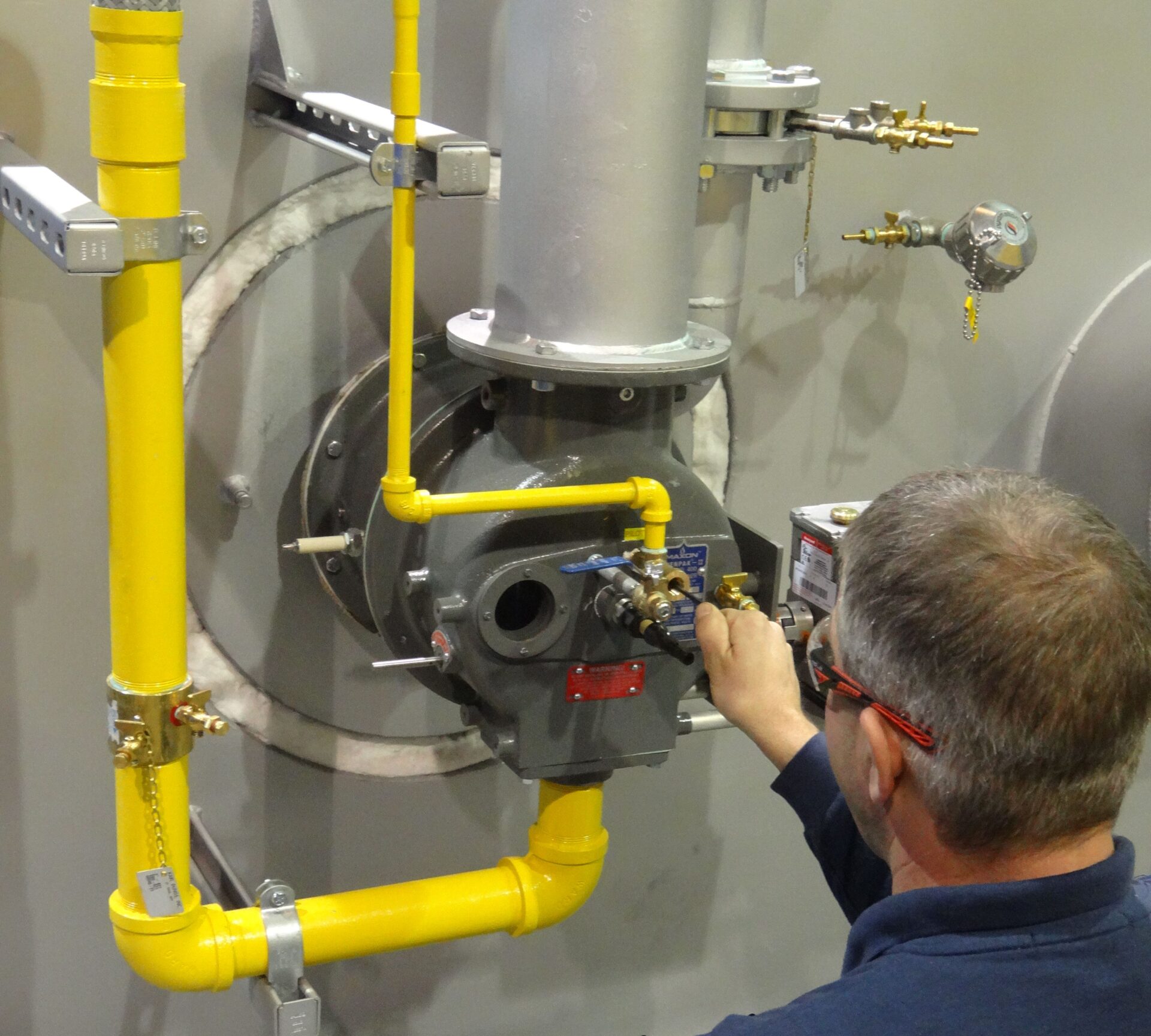 Importance of Industrial Burner Preventative Maintenance provided by Stelter & Brinck
Virtually every industry from food and chemical production to polymer and steel processing uses burners and therefore, can benefit from industrial burner preventative maintenance.
Stelter & Brinck's exclusive checklist used during regular burner maintenance helps companies improve safety and comply with codes and standards. Our field service technicians perform safety circuit testing on-site. In addition, our thorough report will detail any out-of-date items on your equipment.
Preventative maintenance provides a more reliable, longer-lasting system. Reducing unexpected downtime and insuring proper operation means increased production and an extended equipment lifetime. Regular PM visits help us to spot equipment trends; potentially stopping problems before they begin.
Energy savings is another benefit of burner preventative maintenance and burner tuning. By increasing fuel efficiency, customers can lower their energy bills through burner tuning. Burner tunings not only help achieve maximum efficiency through air-to-fuel ratio adjustments, but they also help provide you with the cleanest possible emissions.
Benefits to Hiring an Outside Company for Your Combustion Services
When companies are faced with the question of who to hire for their burner services, they often have two options: to hire in-house personnel or to hire an outside company.
Rather than taking care of it in-house, it is often times more beneficial to hire Stelter & Brinck to handle your combustion needs.
No need for your company to spend time, money and the effort necessary to stay educated on industry codes and standards.
When hiring in-house, a company must incur the expenses of initial and on-going training, employee's salary, and overhead.
Performing industrial burner preventative maintenance requires expertise and experience. We deal with combustion day-in and day-out and thus, our technicians are combustion specialists with experience on many types of combustion equipment. Our techs are also trained in controls, wiring and PLCs.
Our techs are backed by our in-house engineering department and have access to spare parts kept in-stock at our facility. Our techs even stock their vans with parts for on-site accessibility.
You are promptly provided with an in-depth technical report, which allows us to log your process variables and thus, helps spot equipment trends.
4 Reasons to Use S&B's Combustion Field Services
A customer in the spent catalyst recycling industry recently provided the reasons he continuously relies on Stelter & Brinck to keep their plant's combustion equipment in top shape. Below are 4 of the reasons:
Hassel-Free to Schedule
"I like to keep it simple! The burner service is hassle- free to schedule. I just pick up the phone or e-mail a service request. It's that easy!"
Detailed Reports
"The detailed reports allow us to make informed decisions!"
S&B's Service Technicians
"S&B's service technicians are friendly, knowledgeable and helpful! Also, the expertise the techs provide leave us feeling confident we choose the right company to accommodate our burner needs!"
The Outcomes!
"Reduced downtime and less frequent tune-ups" are two of the most notable improvements the customer has seen since he's started using S&B's combustion services.
If you believe that your company could benefit from Stelter & Brinck's combustion field services, feel free to call us at 513-367-9400 or visit our Industrial Burner Service webpage: https://stelterbrinck.com/combustion_burner_field_services.htm