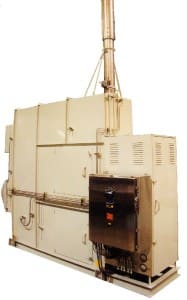 Overview
Indirect air heaters are used as the hot air source to dry chemically sensitive products. Indirect fired air heaters are used with fluid bed dryers, spray dryers, ovens, furnaces, flash dryers, rotary dryers, and many other types of process equipment. These air heaters are mainly used to manufacture food, chemicals, pharmaceuticals, and many other products where the taste, look or feel of the end product may be altered by combustion flue gases or particulates.
In order to effectively heat the end product and avoid contamination by the products of combustion, indirect fired air heaters use a heat exchanger to transfer heat to the end product. By using heat exchangers, indirect fired air heaters can provide relatively high thermal efficiencies compared to that of direct fired air heaters.
Stelter & Brinck Indirect Air Heater Models
Does your plant have particulate laden air streams? Do you need to dry a product that is chemically sensitive? Stelter & Brinck's Indirect Fired Air Heaters are your source for hot air!
Stelter & Brinck's Indirect Fired Air Heaters are available in recirculating, non-recirculating, & straight- through models. Our recirculated USDA model is accepted for use in the USDA Dairy Grading Branch Plant Survey Program. In addition, low emissions are an option with all air heater models.
Benefits and Features of Indirect Fired Heaters Designed & Manufactured by Stelter & Brinck
Heavy-Duty, Reliable Design
Designed to Maximize Ease of Use in Your Layout
Fires on Natural Gas, Propane Gas, Mixed Fuel Gasses and Fuel Oils
Packaged Heaters
Packaged with hot side blowers, air heat burners, heat exchanger and controls.
Rigorously tested & tuned, in-house, prior to shipment.
On-site start-up.
High Temperature Capabilities
Process air outlet temperatures of up to 1200°F are standard for Stelter & Brinck Indirect Air Heaters; for high temperature requests, call the factory.
High Thermal Efficiency
Thermal efficiencies up to 90%, depending upon the application.
Low Emissions Options Available
Plug & Play
Non-recirculating or recirculating, horizontal and vertical layouts available.
Easy to use and install.
Access door options allow for easy cleaning and maintenance.
Case Study: Indirect Fired Air Heater for a Food Manufacturer
The Customer's Need:
A bulk material dryer in the plant's Research and Development Lab was in need of a source of hot air. The customer's boiler did not have sufficient extra capacity and could not achieve the steam pressure required for high heat. Their new equipment was to meet the following qualifications:
Production of clean, hot air – the food manufactured at the plant is chemically sensitive, thus it could not contain the products of combustion.
High efficiency.
Wide operating range.
And capable of handling up to 10 psig process air.
Stelter & Brinck's Solution:
Stelter & Brinck's indirect fired air heaters provide clean, hot air free from the by-products of combustion.
For this application, our recirculating model was chosen because it is a high efficiency unit; this indirect air heater is capable of thermal efficiencies of up to 90%. The heater recirculates the hot side air stream thus reducing fuel costs and exhaust volumes to a minimum.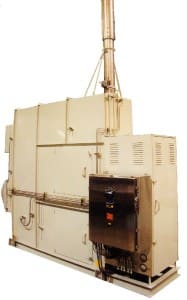 Note the totally enclosed combustion system. This heater is installed on a plant roof-top, the enclosure features full equipment weather protection as well as a built-in lighting source.
Other Pictures of Stelter & Brinck Indirect Air Heaters