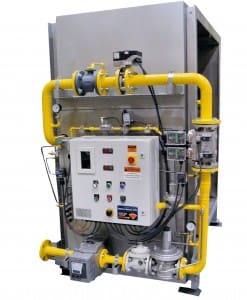 Duct Air Heaters are one type of direct fired air heater used in industrial applications. These industrial heaters provide the hot air used to manufacture everything from clay and brick to coal and glass. Duct Air Heaters earned their name due to the fact that they are designed to be inserted right into the process ductwork. These heaters most often fire on natural gas, propane and butane.
Stelter & Brinck Duct Air Heaters Models & Pictures:
Fresh Air Duct Section Air Heaters: the burner uses the "fresh air" present in the process air stream; do not require an additional combustion air source.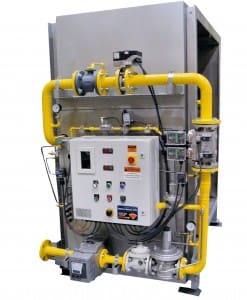 Image: Stelter & Brinck's Fresh Air Duct Section, Duct Air Heater
Recirculating Duct Section Air Heaters: used in slightly dirty environments, when the oxygen content present in the process stream is low; feature a combustion blower.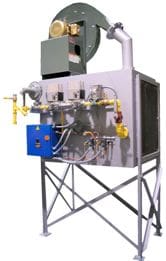 Low NOx and CO options are available with each model of Duct Style Air Heaters.
Stelter & Brinck Duct Style Air Heater Features/ Benefits:
Fresh Air Duct Section & Recirculating Duct Section
Fires on Natural Gas, Propane Gas, and Mixed Fuel Gasses
Packaged Heaters
Complete with process controls. UL 508A priced per request.
Packaged with combustion blowers (if required), air heat burners and gas controls.
Arrives on-site prewired, pre-piped, and with component ID tags.
On-site start-up and on-going maintenance available.
High Energy Turndown
Plug & Play
Designed to be inserted right into your ductwork.
Single point fuel connection.
Built to meet your construction standard requirements.
Easy to use and install.
Rigorously tested & tuned, in-house, prior to shipment by our internal Quality Control Team.
Duct Style Air Heater Video