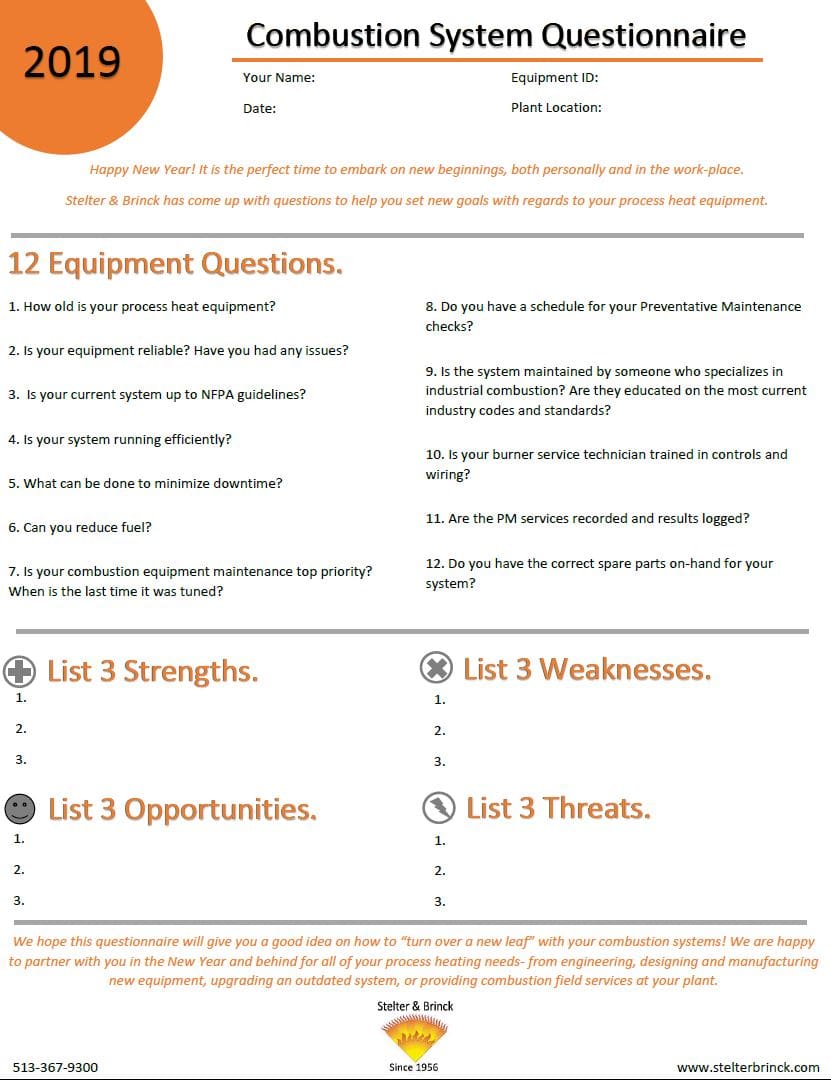 Happy New Year! Now is the perfect time to embark on new beginnings, both in your personal life and in the work-place. In order to help you set new goals with regards to your plant's process heat equipment, we've generated a list of questions:
How old is your process heat equipment?
Is your equipment reliable? Have you had any issues?
Is your current system up to NFPA guidelines?
Is your system running efficiently?
What can be done to minimize downtime?
Can you reduce fuel?
Is your combustion equipment maintenance top priority? When is the last time it was tuned?
Do you have a schedule for your Preventative Maintenance checks?
Is the system maintained by someone who specializes in industrial combustion? Are they educated on the most current industry codes and standards?
Is your burner service technician trained in controls and wiring?
Are the PM services recorded and results logged?
Do you have the correct spare parts on-hand for your system?
In addition to these questions, we also recommend that you analyze your equipment using the SWAT analysis:
List 3 Strengths of your system.
List 3 Weaknesses.
List 3 Opportunities for your plant's equipment.
List 3 Threats.
We have attached a sheet with the questions above, so you can print it. After completing this questionnaire, we hope that you can work on your 2019 combustion system goals.
We are happy to partner with you in the new year for all of your process heating needs– from engineering, designing and manufacturing new equipment, upgrading an outdated system, or providing combustion field services at your plant.