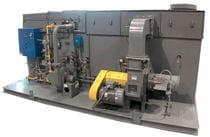 Stelter & Brinck's Thermal Fume Oxidizers, Afterburners and Catalytic Fume Oxidizers are products of over 90 years in the process heat industry. All of our environmental systems are custom designed, manufactured, built and tested/tuned in-house by our experience team of professionals.
In order to keep your oxidizer in environmental & safety compliance, reduce unnecessary production interruptions, reduce energy costs and avoid costly repairs, Stelter & Brinck offers the following oxidizer services and maintenance:
Air Pollution Control System Start-Ups
Oxidizer Repairs and Rebuilds/ Upgrades/ Retrofits
Troubleshooting
System Airflow Balancing
Operator Training
Spare Parts
Preventative Maintenance: Our technicians use an S&B exclusive in-depth checklist to accurately inspect and adjust the mechanical and electrical components: burner tuning for efficiency, NFPA and insurance safety checks, burner operation reliability, burner & pilot inspection, leak tests, flame safety relay checks, combustion blower motor inspection, main power & PLC operation checks, and more.
Regular maintenance helps ensure your Oxidizer System is efficiently destroying VOCs, Hazardous Air Pollutants and foul odorous that are often emitted from manufacturing processes. Because Preventative Maintenance plans are not "cookie-cutter" plans – what works for one facility doesn't work for another- Stelter & Brinck offers a "Scheduled Burner Maintenance Program". With this program, we custom design a PM plan around your plant's goals and schedule. We remind you when your oxidizer service is approaching and will send you an in-depth technical report following our visit, which allows us to log process variables and spot equipment trends.
Here's what our customers are saying about our Oxidizer Services:
"We had S&B redesign our equipment because it was not as robust as we would have liked. Since, our site has seen a marked improvement in our equipment!" – Maintenance Supervisor, A Hard Drive Manufacturer
"S&B are experts; they have significant experience with oxidizers, which made them very easy to work with!" – Engineering Manager, Automotive Manufacturing
"Stelter & Brinck's equipment has kept us within code and has eliminated the possibility of any emissions fines!" – Maintenance Engineer, A Fuel Delivery System Manufacturer