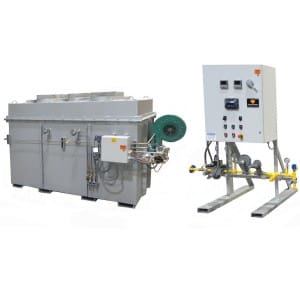 Stelter & Brinck Submerged Entry Nozzle (SEN) or Submerged Entry Shroud (SES) Preheaters uniformly preheat multiple tundish nozzles, prior to being exposed to molten metal.
Stelter & Brinck's SEN / SES equipment includes:
– cast refractory nozzles holders
– high thermal turn down
– combustion blower
– control panel with first out fault annunciator
– valve train
– remote control interface capability
– single-piece construction, custom built to fit your requirements.
– built to your construction standard requirements.
– easy to use and install
– rigorously tested and tuned prior to shipment.
For more information on our SES / SEN Preheaters, please visit our website: https://stelterbrinck.com/SEN-preheaters.htm